Repeat purchasers from MySQL
Introduction
Planning to use data about your repeat purchasers from MySQL to start making predictions in Faraday? Great!
Since MySQL is natively supported by Faraday, it's easy to onboard your data and use it for predictions by creating a Repeat purchasers cohort.
Cohorts are the building blocks of your predictions in Faraday, and your Repeat purchasers cohort will enable you to predict which customers are most likely to come back for more. Follow the steps below to create your Repeat purchasers cohort.
Getting started
Make sure you have a Faraday account (signup is free!) and that it's not in test mode.
Prerequisites
You'll need data representing one of the your repeat purchasers available in MySQL. This data must take the form of one of the following:
You'll also need the following connections available in your Faraday account: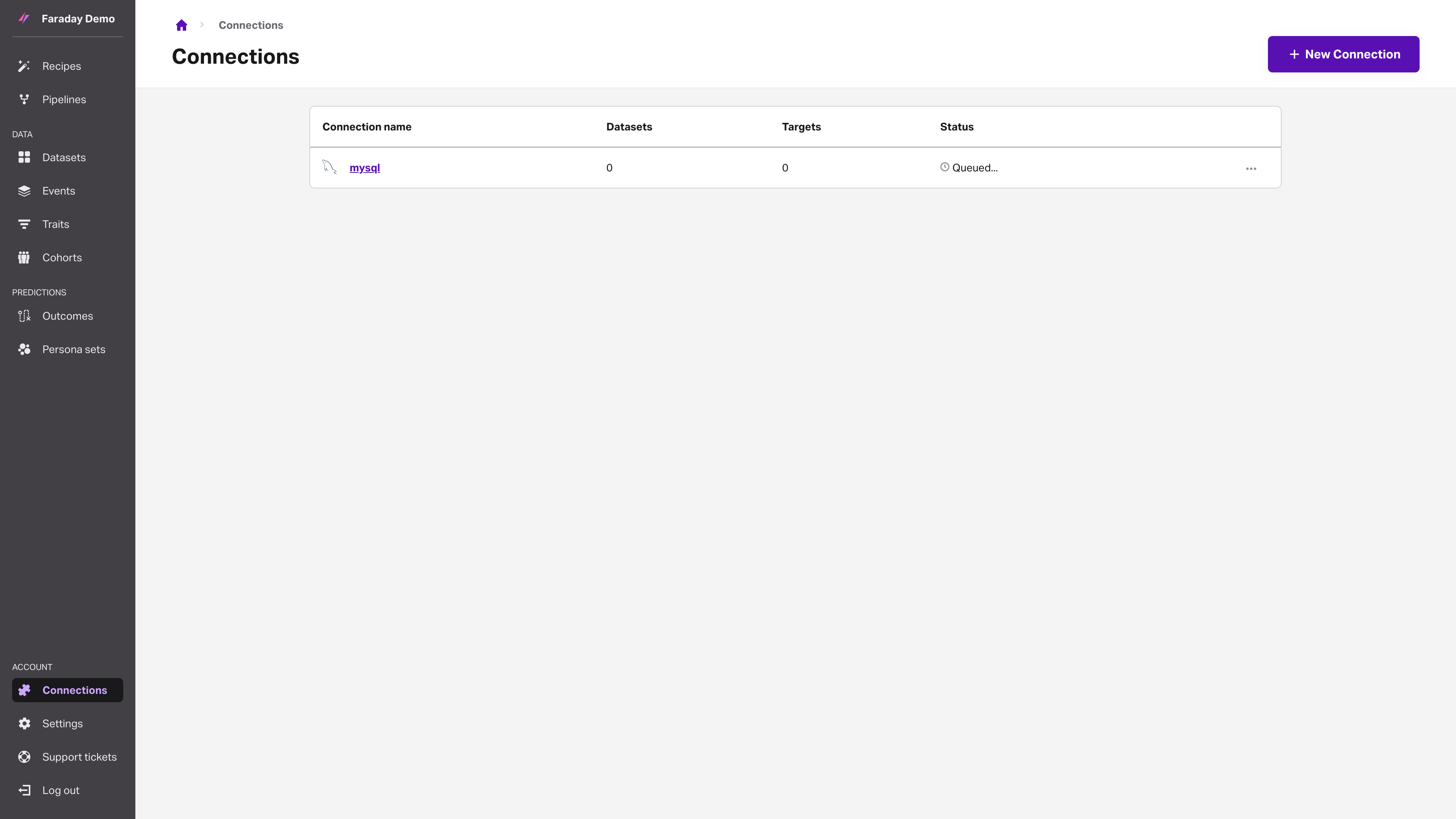 Shortcuts
Your account may already have a cohort representing your repeat purchasers. Before following the instructions below, check your existing cohorts.
Your account may already have a dataset with Repeat purchasers or Transaction data. If you see one listed among your existing datasets, you can skip the "Dataset" section below and proceed directly to the "Cohort" section.
Dataset
Connecting your data
First, you'll add data representing your repeat purchasers from MySQL to Faraday using a Dataset.
Describing your data
Next, you'll help Faraday understand what your data means, starting with recognizing people in your data.
Identities
Your data may contain multiple identities per person, like billing and shipping. Choose one to start with.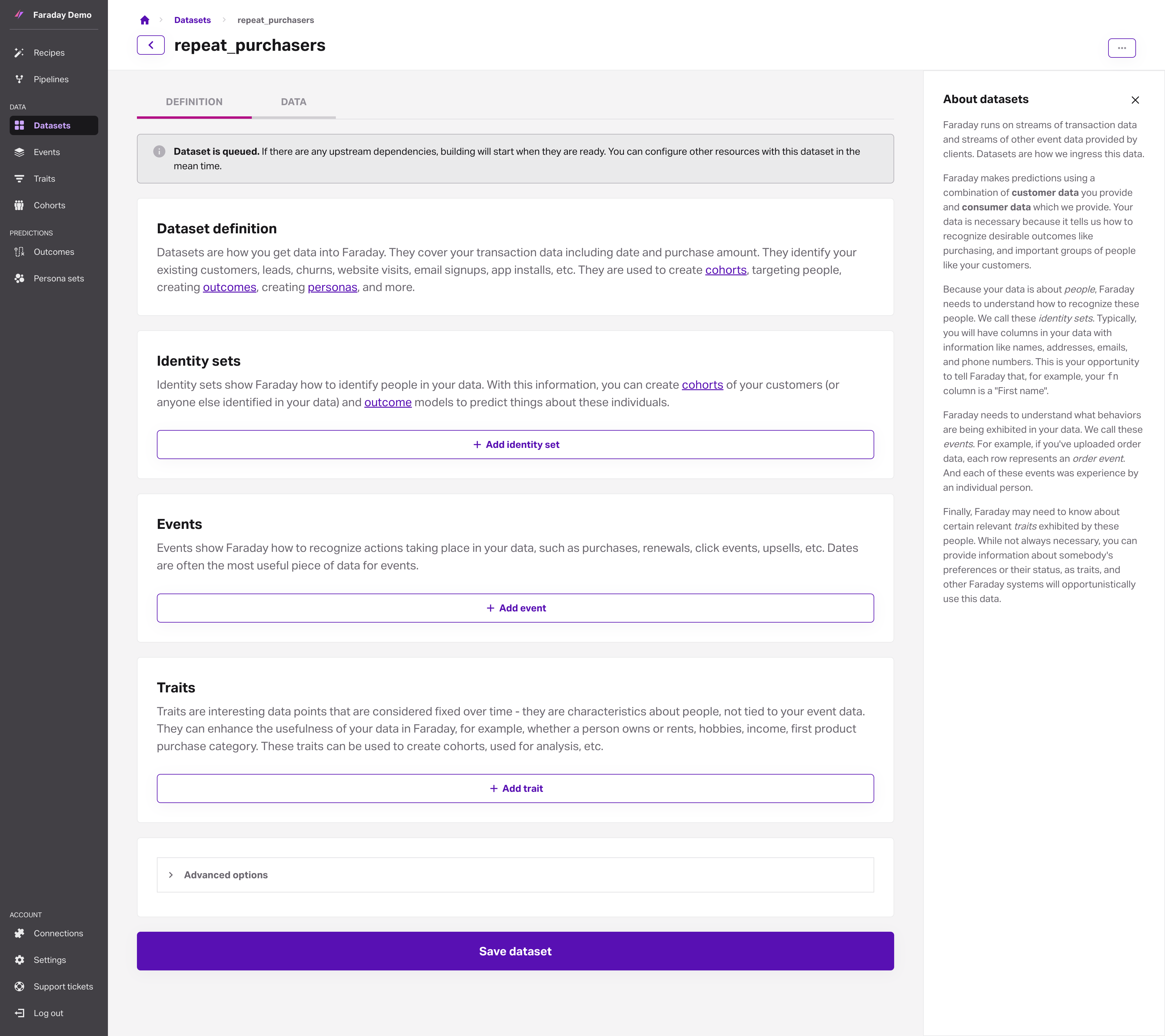 If there are other identity sets in your data, feel free to use the Add identity set button and repeat the process.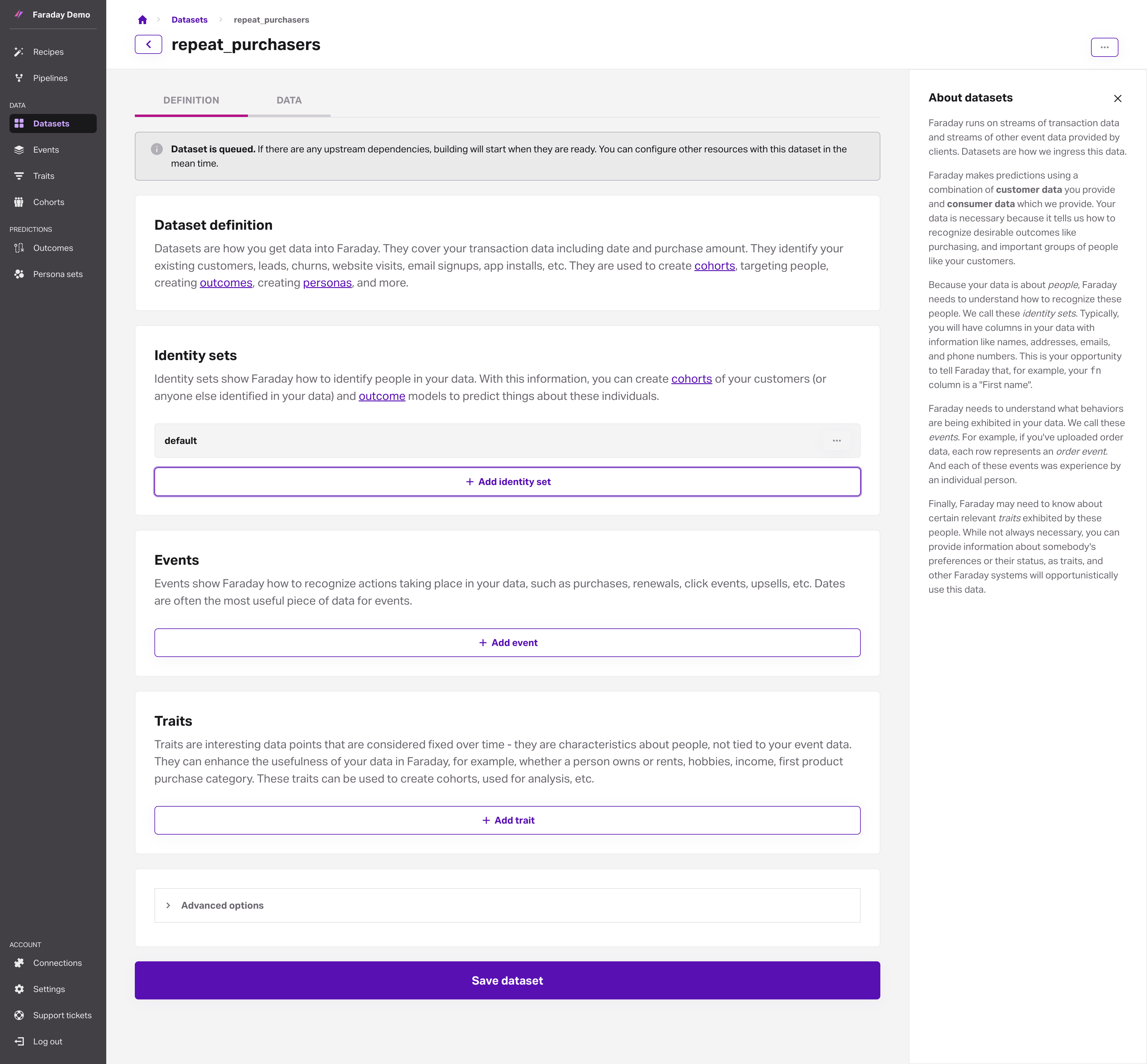 Behavior
Now you have to make a decision about your data:
A. Does each row represent a single transaction event that a person could experience in order to become a repeat purchaser?
B. Or, alternatively, does each row represent a fully qualified repeat purchaser?
Option A: each row represents a transaction event
Option B: each row represents a single repeat purchaser
Cohort
Your Repeat purchasers cohort is a formal, fluid representation of your repeat purchasers. You'll use this cohort, along with others, as building blocks to configure Faraday to make powerful predictions about your repeat purchasers and others.
Filtering
Here you will specify the qualifications a person needs to meet to be part of this cohort. If everyone in the dataset should be a member, you can skip this section.
Follow the instructions for option A or option B - whichever one you picked above.
Option A: each row represents a transaction event
Option B: each row represents a single repeat purchaser
Finishing touches
Your new cohort is now ready to use!
Conclusion
With your Repeat purchasers cohort created from a dataset based on MySQL repeat purchasers data, you're ready to use your cohort in a prediction!