Why use predictions for high spenders?
Knowing which of your leads and prospects are most likely to spend big gives you the opportunity to serve them just the right offers at just the right time to drive revenue.
The most effective way to predict high-spend customers is with machine learning. With machine learning, you can constantly keep your lists of leads and prospects up-to-date with high-spend predictions based on the historical data of similar shoppers, and plug your high spenders right back into your stack, no PhD required. With your high spenders in your stack, you're ready to kick off a campaign to drive them to conversion.
Faraday makes predicting your high spenders intuitive & easy, and delivering them to any channel in your stack a breeze.
With high spend score predictions in Klaviyo, you'll give your team the ability to target not just those likely to become customers, but those most likely to spend big.
Follow the steps below to get your high spenders predictions into your Klaviyo account.
---
In this guide, we'll show you how to:
Getting started with high spenders in Klaviyo
Make sure you have a Faraday account (signup is free!) and that it's not in test mode.
Requirements for this high spenders recipe
You'll need the following cohorts available in your Faraday account: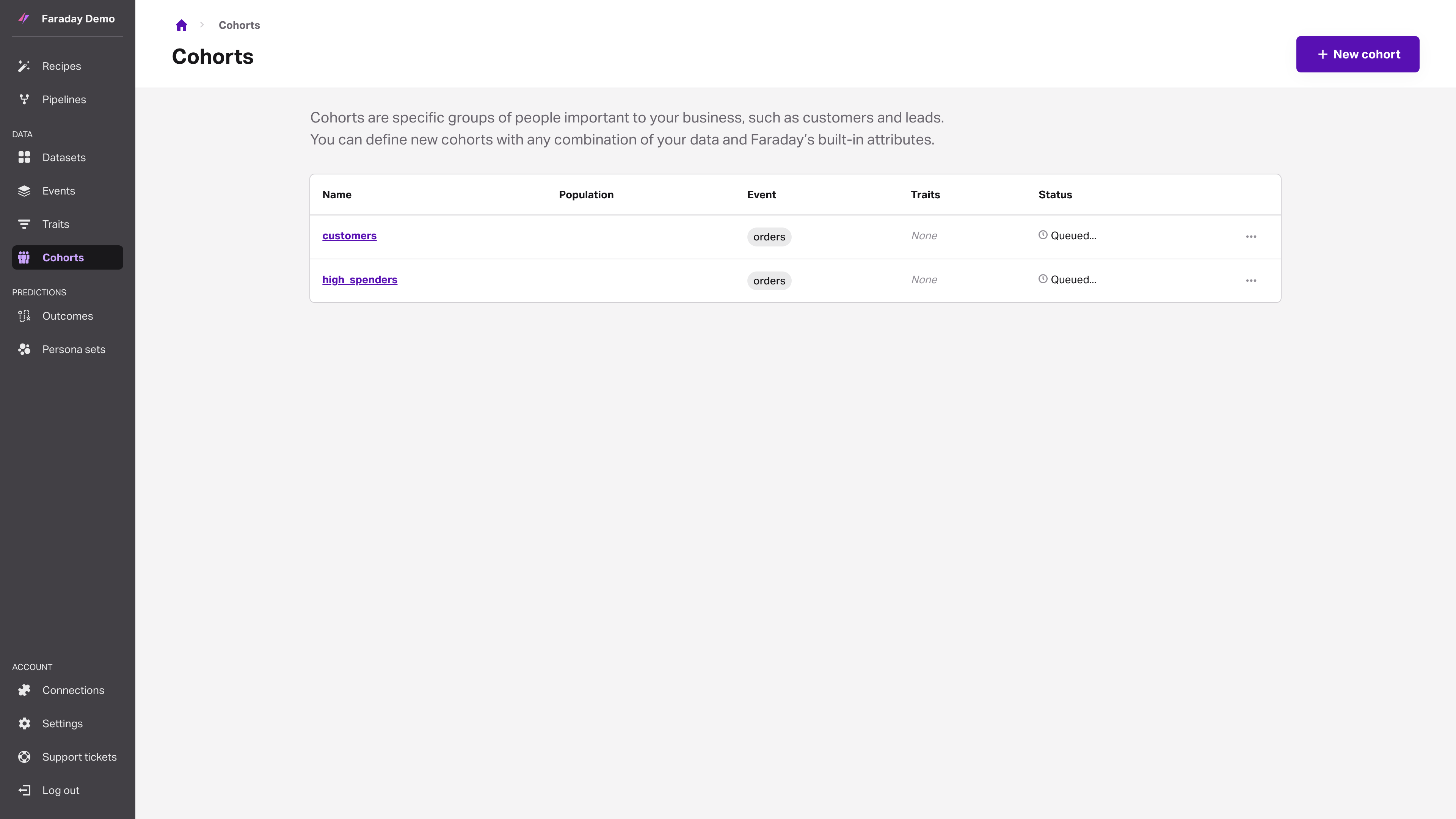 Building predictions for high spenders in Klaviyo
Now you'll create the prediction objective(s) necessary to complete this use case with Faraday.
Describe your high spenders predictions with outcomes
Outcomes use machine learning to predict whether or not people will exhibit a certain behavior.
Creating an outcome for likelihood for high spend.
Let's make an outcome for likelihood for high spend.
Faraday will do some magic in the background, so you can proceed with the rest of the instructions. When your outcome is done building, you'll get an email, and you can review your outcome.
Using Pipelines to deploy predictions to your stack
Now you'll configure the pipeline that deploys your predictions to klaviyo.
Create your pipeline for high spenders in Klaviyo
Your pipeline will start building in the background. You can proceed immediately with the next set of instructions.
Deploying your pipeline to Klaviyo
CSV
How to use your high spenders predictions in Klaviyo
With your pipeline deployed, it's time to plug your high spend scores into Klaviyo. Follow the steps below to see each Klaviyo contact enriched with their high spend score.
Importing your high spend score CSV into Klaviyo
In your Faraday pipeline, click the Download CSV button under the deployment to download your high spend scores as a CSV.
Navigate to Klaviyo's Lists & Segments, and click create a list/segment in the upper right.
Select list, as you'll need to create a list with these contacts and create the high spend score property during upload.
Give your list a unique name and, optionally, a tag. Click create list.
Select upload contacts.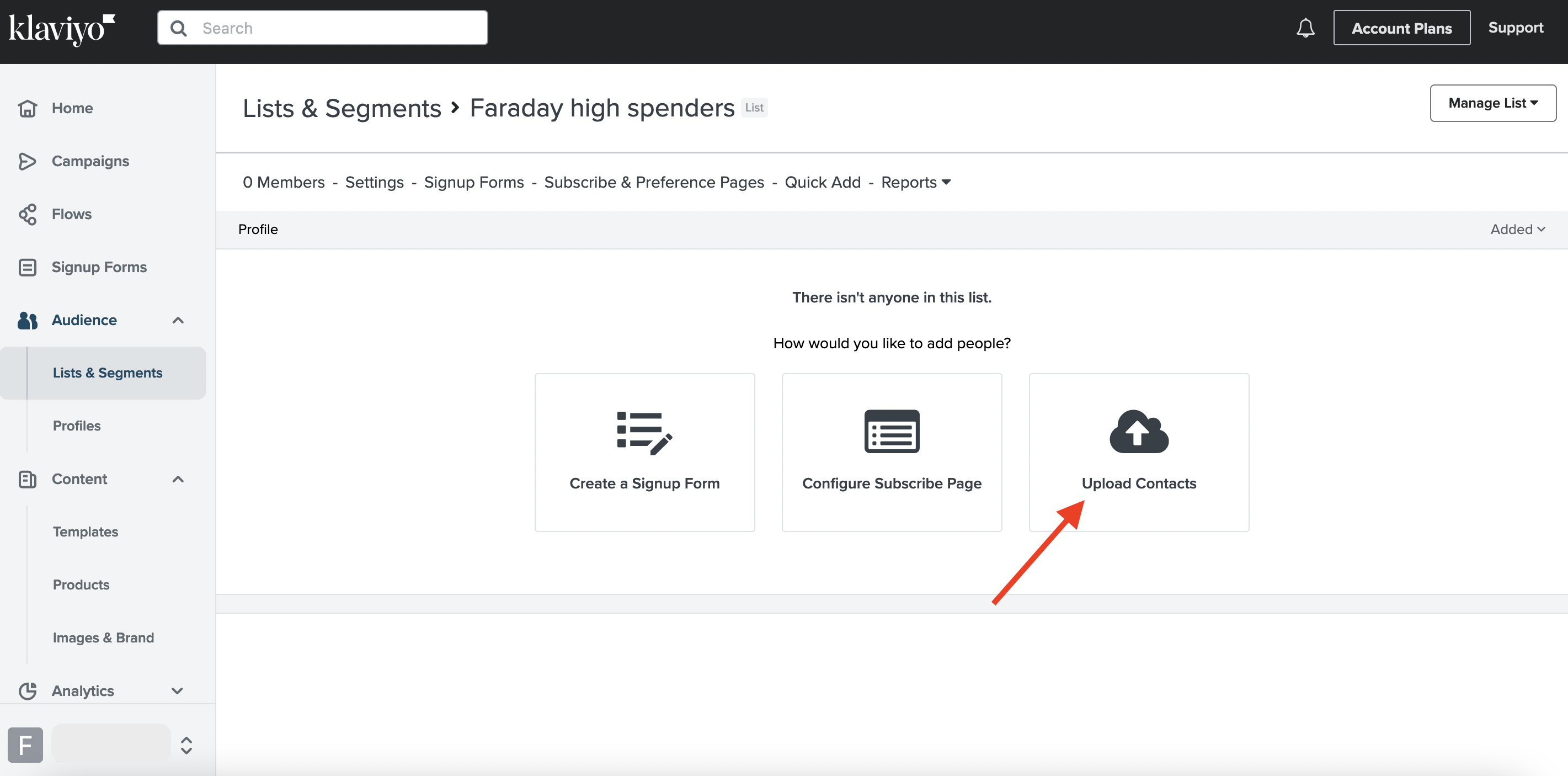 You'll be taken to the field mapping screen, where you can map any fields that didn't automatically map.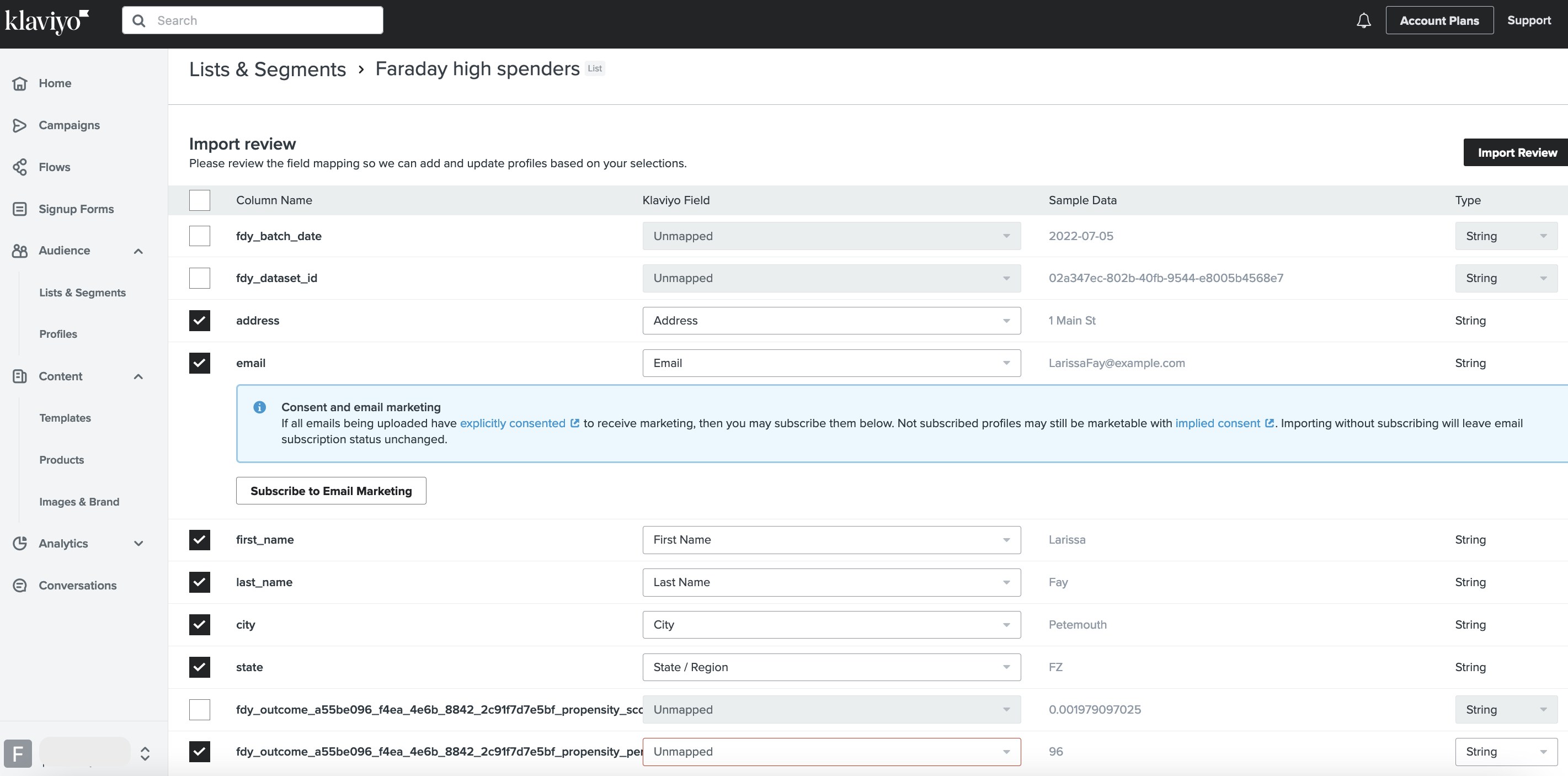 Under the "Klaviyo field" column, key rows to map to are email and the high spend score row outlined in step 7. Rows like "fdy_batch" and "dataset_id" can be skipped, as can the raw decimal score, which is generally the row before the score in step 7.
In the final row, "fdy_outcome_propensity_percentile", click unmapped, and type in a unique name for this field, such as "high spend score." Then, click create option.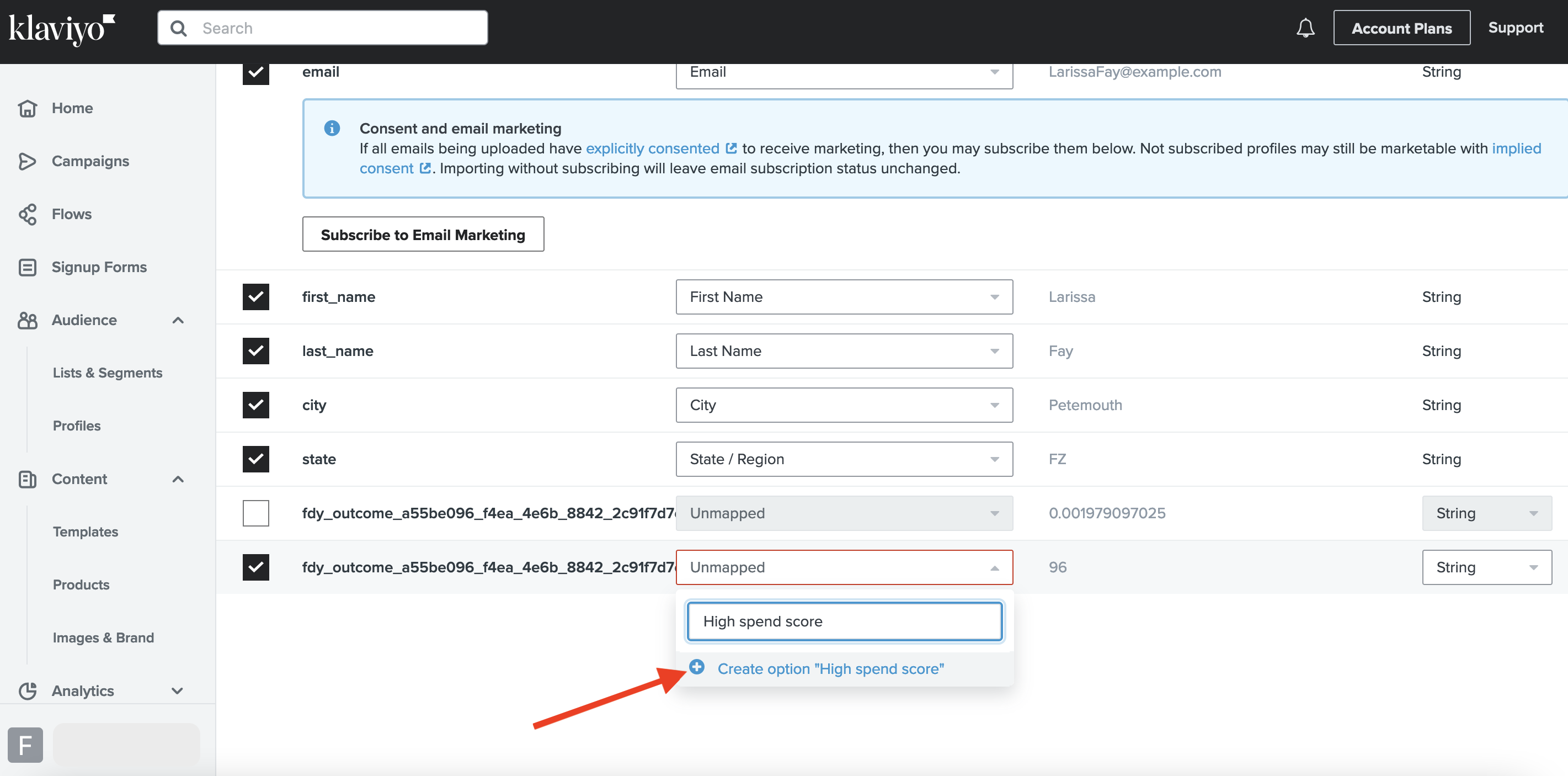 In the final column for your new high spend score property, "type," change string to numeric, as scores will be numbers. This will enable you to create segments of contacts whose score is higher than a specific value.
Click import review in the upper right to see the final report of columns being imported, properties being created, and columns skipped. Click start import to wrap up, and you can now begin to plan a campaign to target the high spenders in this list.
🔒 It's a best practice to permanently delete any file that contains personally identifiable information (PII) after use. Any deployment from Faraday that is unhashed contains PII, and should be deleted after uploading it to your destination for security purposes.