An Einstein lead scoring alternative for B2C companies on Salesforce
To salespeople and marketers, Salesforce is a very well-known commodity. Not only is it a CRM, but it has a suite of convenient addons and features for practically every use case under the sun, from forecasting to predictive lead scoring. Since these are addons and features directly within Salesforce, and they're easy to integrate into the Salesforce part of your workflows.
In this article, we're going to walk through the drawbacks of Einstein lead scoring (especially for B2C companies), and how Faraday's approach to B2C lead scoring offers faster, more versatile, and more holistic predictive lead scores that make use of all your data, not just what you have in your Salesforce account.
Einstein lead scoring doesn't quite cut it for B2C companies
While the seemingly just-add-it-on implementation of Einstein lead scoring is without a doubt eye-catching, the drawbacks that come with simple addons are inevitable when compared to feature-complete products that are built to accomplish the same task. The shortcut is rarely worth the time and effort invested when the results are often lackluster. Einstein lead scoring falls short for a few different reasons:
The cold start problem: Einstein can't make predictions on net new leads. It requires time for data to be collected on the individual before a score can be assigned. This leaves you either sitting on your hands while the lead is looking around at your competitors.
Limited data: Data is the foundation of any effective revenue-driving strategy. With Einstein, only your first-party data is able to be used. For leads that you already have data on, you'll have a rough idea of how they've interacted with your brand, but you won't know what kind of person they are, how they shop, or what makes them tick.
Labor-intensive: If you have non-sales data in disparate systems, like product data in Amplitude or Mixpanel, you'll need to spend a significant amount of time manually plugging in your key metrics & datapoints to map out how leads should be scored.
What's the best B2C lead scoring software for Salesforce?
Here's the thing: the best lead scoring software is purpose-built, like Faraday, not an add-on, like Einstein. If you take the shortcut, it'll show signs of rust quickly, leaving you scrambling for an alternative and wondering why you ever bothered in the first place. The good news is that Faraday offers a suite of customer predictions for every stage of the customer journey - one of which is lead scoring.
Solving the cold start problem
Like I mentioned earlier, Einstein lead scoring leaves your reps sitting on their hands as new leads come in. You have no data on them, so you don't know how to engage with them–or if they're worth engaging at all. This delay leaves your leads plenty of time to check out your competitors' offers, and to bite at the personalized direct mail postcard they just got in the mail.
Using Faraday, you can solve the cold start problem by scoring leads with propensity models for their likelihood to convert as soon as they come in, enabling your reps to act with them immediately. Whether it's to prioritize the lead because their predictive lead score is high, or to disregard because it's low, your reps' time–their most valuable asset–is being used effectively. Lead prioritization is clear from the minute the lead first interacts with your brand, made possible by unifying your data with Faraday's.
Built-in consumer data
Your first-party data alone isn't enough to not only solve the cold start problem, but also give you clear indicators for how to engage leads you already know about. You're unlikely to know what the leads' shopping preferences are, what kind of home they have, or their annual household income. With Faraday's hundreds of built-in, cookieless consumer attributes, including demographics, psychographics, financials, property information, and more, every interaction you have with your best-scoring leads can be tailored just right.
Using this data in conjunction with your own lead data, you can even personalize your outreach with copy & creative that's resonant with each individual, leaving you with campaigns that are both highly targeted to your best leads, and highly personalized for maximum impact. Use predictive personas to enable talk track alignment so that all of your reps hit the same key notes on every lead where it's relevant. Similarly, you might find certain reps more effective than others with certain personas, leaving clear coaching opportunities to bring others into the fold. goals, it's worth the effort to retain them.
Sits anywhere in your stack
While Einstein lead scoring involves pulling your disparate data into Salesforce from various pieces of software, Faraday sits anywhere in your stack that you need it to. Your data's easily ingested from any software you use, used to make accurate, impactful customer predictions, and deployed back to Salesforce just as easily.
How to implement lead scoring in Salesforce with Faraday
With Faraday, you can implement predictive lead scoring in Salesforce in a day, including scoring brand new leads in real-time as they come in–something Einstein lead scoring can't do–regardless of where your data is. Here's how it works.
Upload your lead and customer data from Salesforce
To start, you plug in your data by mapping your data fields to Faraday properties. You'll match customer & lead data like names, emails, and addresses to match their identities into Faraday.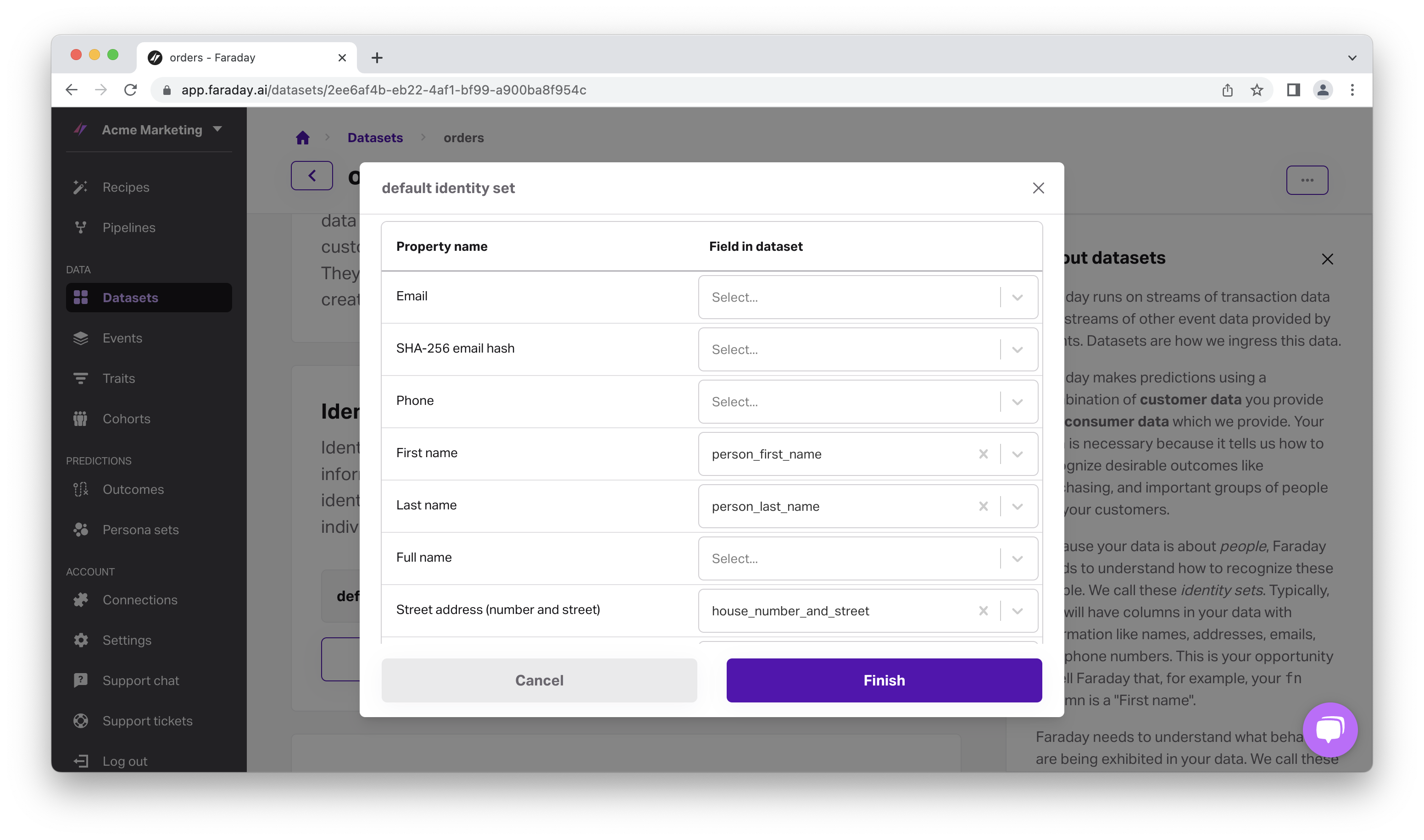 Then, in cohorts, you'll utilize both your data and Faraday's built-in consumer data to group your data into interesting groups of people, which in this case are your customers and leads.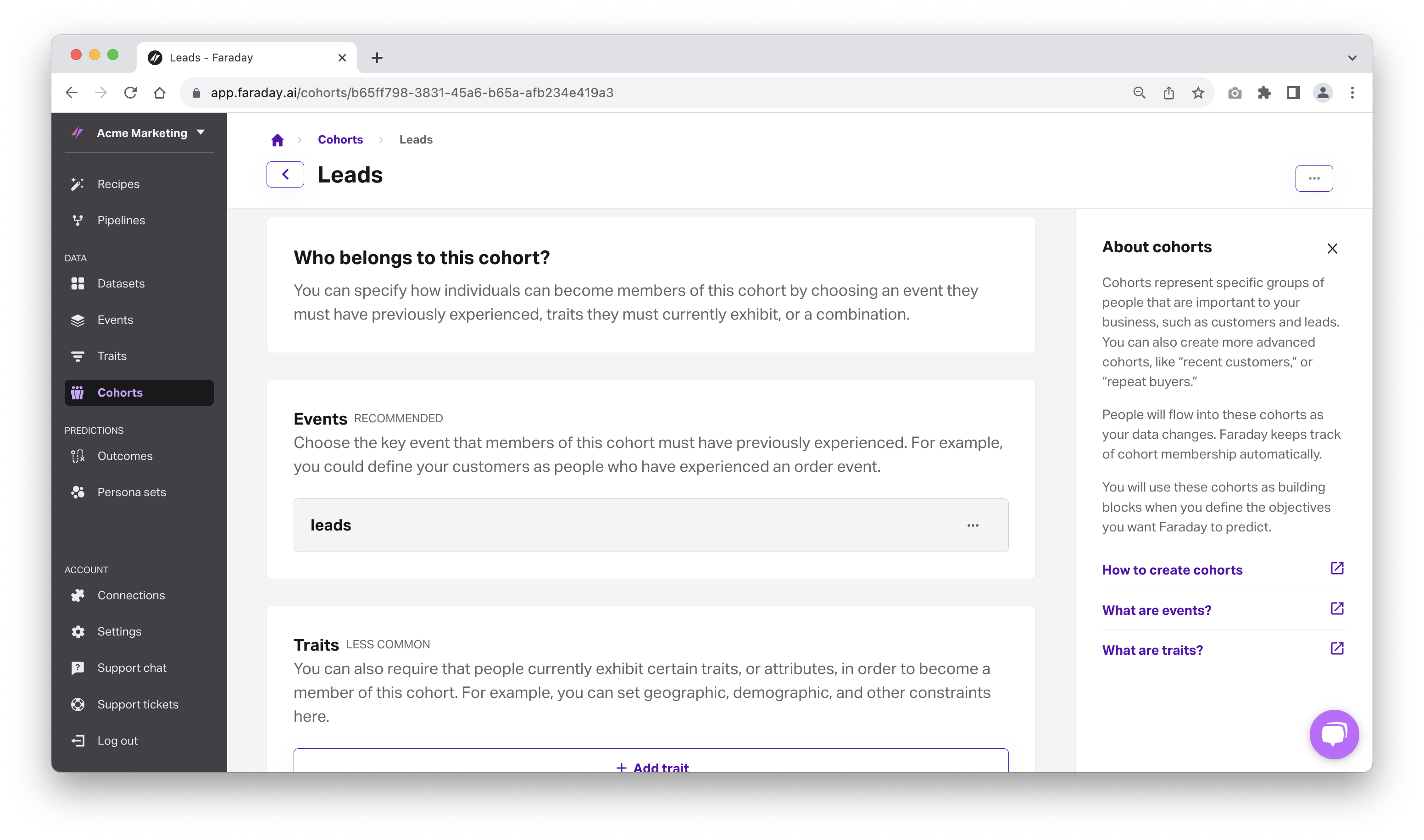 Predict personas to reveal rich insights
If you really want to make your brand's engagement stand out to your leads, you can predict personas to reveal who your leads are as people and as consumers. Through trait breakdowns like age, gender, household income, hobbies, shopping styles, and more, you can turn your newest lead, Jane Doe, whom you know nothing about, into Jane Doe, married mother of 3, Amazon-centric shopper, and dog mom with a household income of $200k.
Your talk tracks & creative couldn't be easier & more resonant.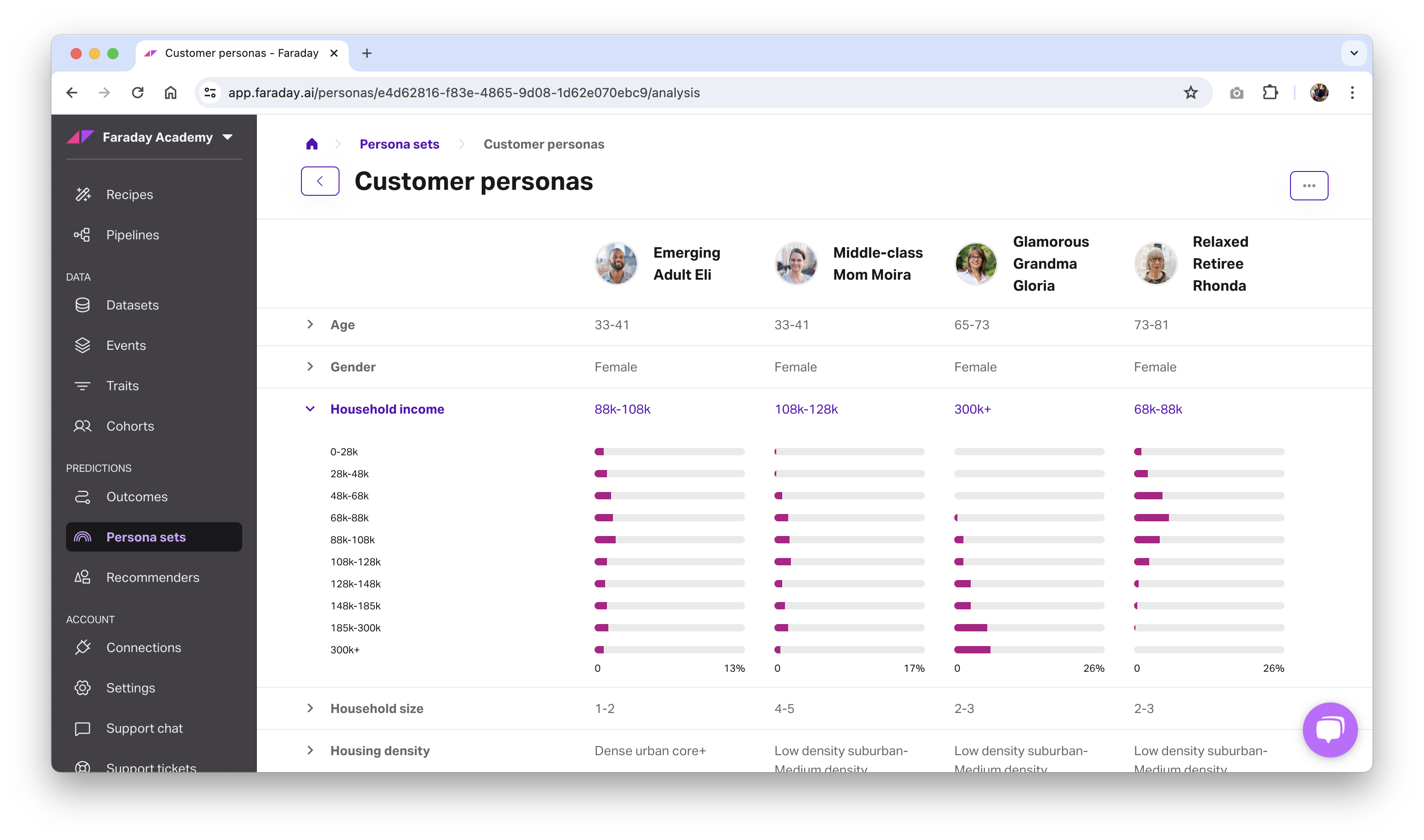 Build a predictive outcome to score leads in Salesforce
Next, you'll build your predictive outcome by defining your attainment cohort as your customers, as that's your prediction's finish line–you want more people like your customers. Here, you're defining the propensity to convert, or the likelihood that a lead is going to convert, so you'll choose your leads as your eligibility cohort.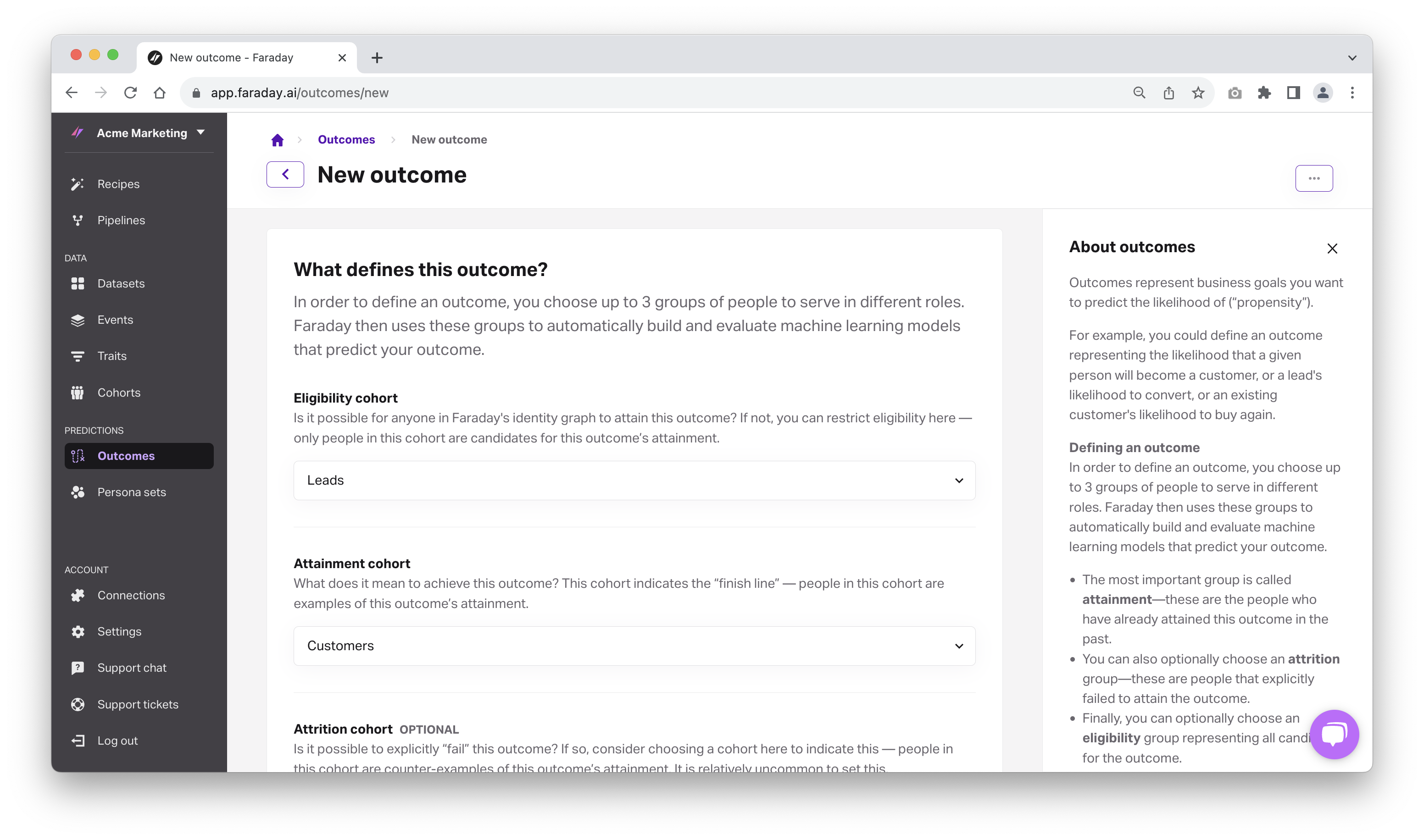 With your lead scoring prediction defined, create a pipeline to make it actionable by choosing your likelihood to convert outcome and (optionally) your persona set as your payload, and your leads cohort as your population to include.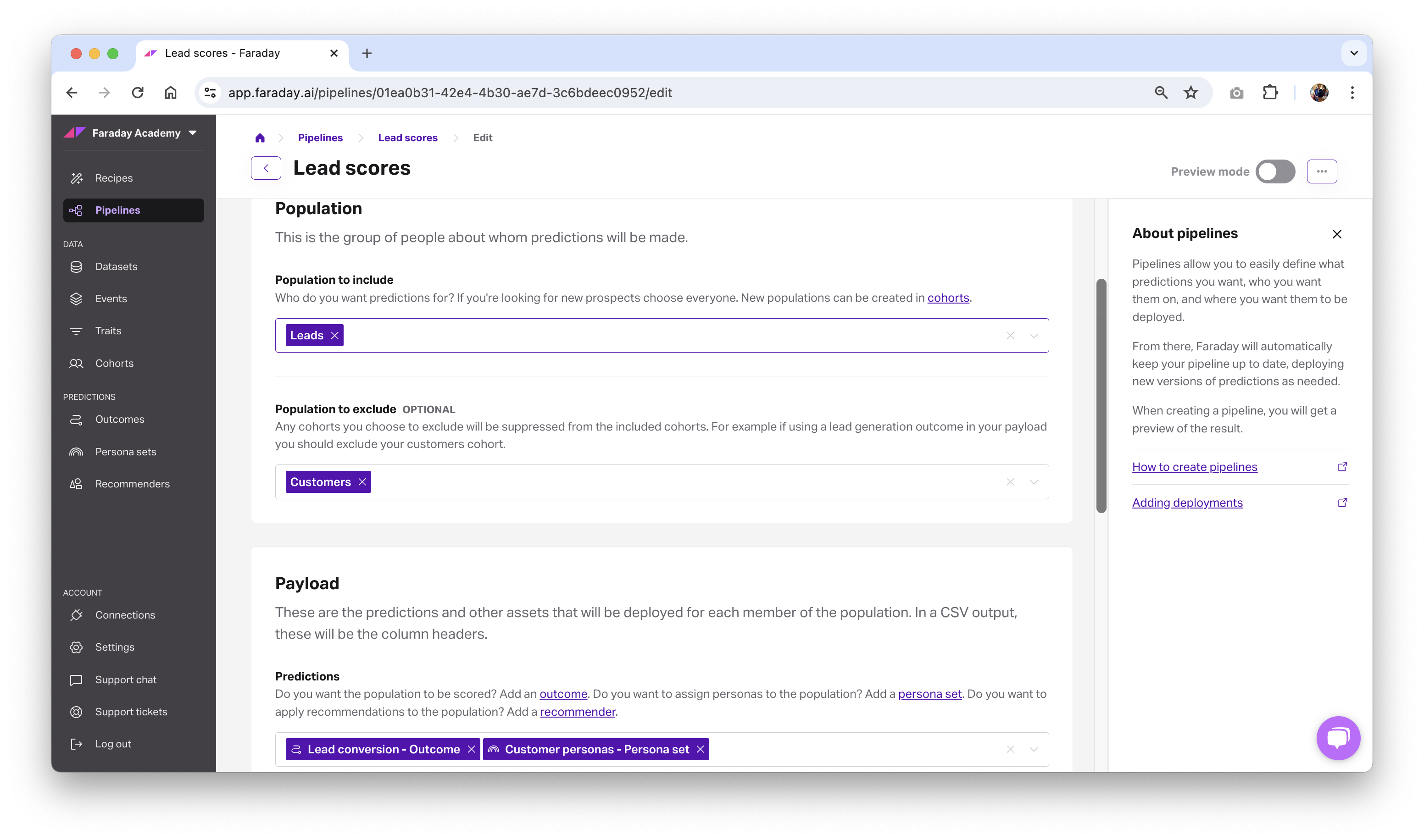 Next, Faraday's machine learning algorithms then get to work predicting how likely people in your leads cohort are to convert and become customers, then they're assigned scores on an individual basis that you can filter & activate on.
Deploy predictive lead scores back into your Salesforce instance
With your predictions made, deploy your predictive lead scores to your Salesforce account so that each lead is enriched with their predictive lead score–and optionally, their predictive persona–so that, at-a-glance, your reps know exactly how and when to engage for the highest impact in order to drive revenue through conversions.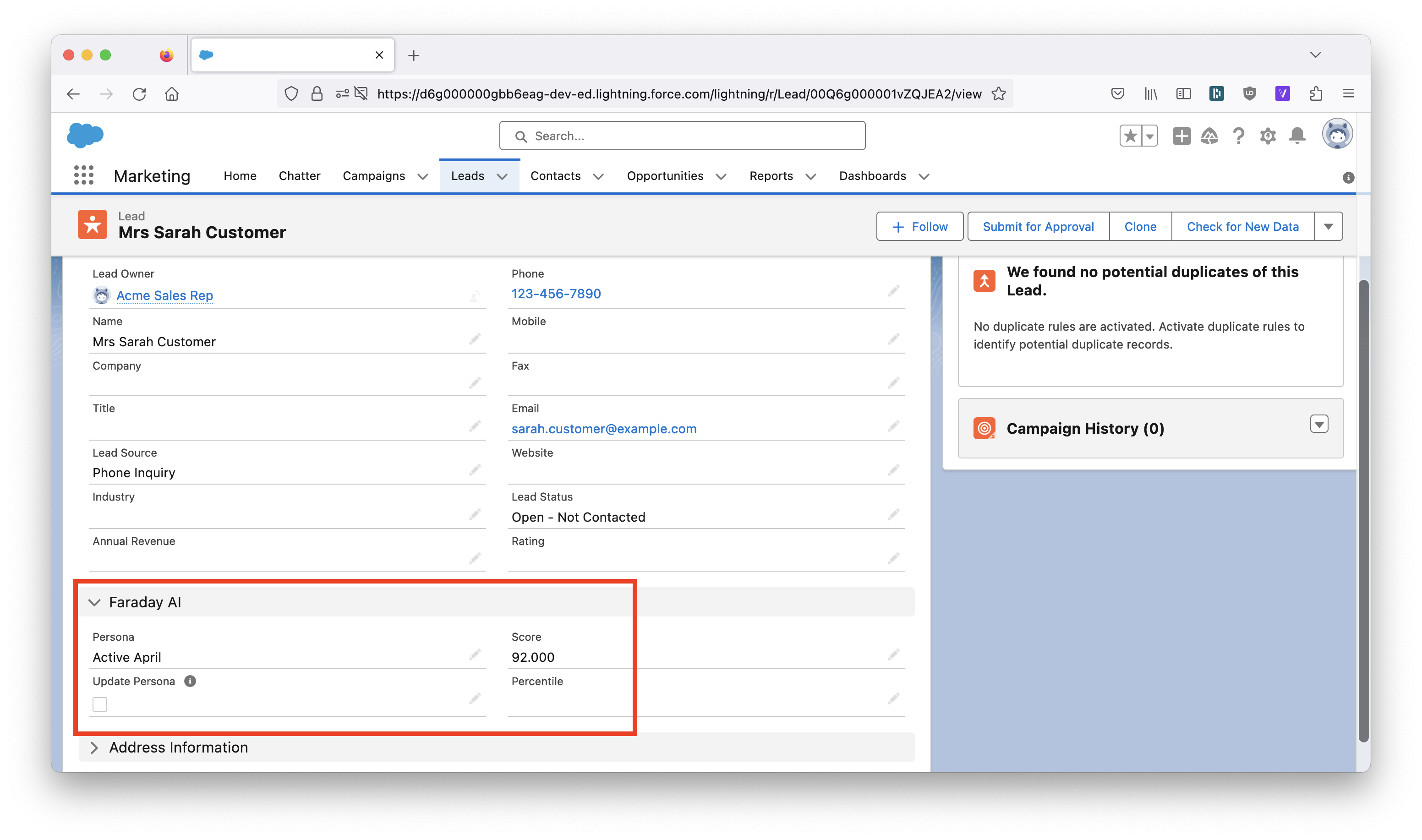 Ready to try it out? Create a free account.
---