Customer churn prediction software: why you need it, features to look for, and the best ones
Brand loyalty has never been more impactful for B2C businesses than it is in 2023. Industry is awash with competition, leaving consumers with the ability to quickly jump from one brand to another after a bad experience. Whether that experience was with customer service, your website, or something else entirely, that churned customer is unlikely to come back–no matter what promos you drop into their inbox. When a 5% increased retention rate can result in up to a 95% increase in profits, it's no wonder that brands are looking for every edge they can in order to keep their customers on board and delighted.
Enter customer churn prediction software. Previously, brands ran manual calculations, comparisons, and segmentations to try and find common characteristics of churned customers. Now, thanks to advancements in AI and machine learning, customer churn prediction software allows savvy brands to embed churn scores directly into their stack. In this article, we'll walk through three reasons you need churn predictions in your stack, key features to look for when seeking customer churn prediction software, and the best ones to choose from.
3 reasons why B2C brands need customer churn prediction software
Acquisition is more expensive than retention. According to American Express, it's 5-6x more expensive to acquire than it is to reactivate an old customer. A successful retention campaign could result in a major positive impact on revenue if your customers.
It's easier to sell to existing customers. With Semrush reporting that you have a 60-70% chance to sell to an existing customer compared to a 5-20% chance to sell to a new customer, campaigns that have a retention focus are much more likely to prove out than their purely-acquisition counterparts.
Returning customers spend more than new customers. Customers that are delighted with the products and services they receive from a brand are happy to come back for more–and spend 67% more. Fostering customer retention through loyalty programs and other similar offerings can keep those customers coming back to spend big with far less effort and cost than peppering Instagram feeds with targeted acquisition ads.
Churn prediction software features to look for
Modern martech platforms come with a variety of bells and whistles, with addons for seemingly every use case. For churn prediction software, there are a few key features that will give your brand the competitive edge by enabling high-impact retention campaigns.
Built-in consumer data
All customer predictions are built upon a foundation of data. While your first-party data is critical to knowing how your customers interact with your brand, it's not likely to be enough for you to know who your customers really are, what their shopping habits are, or what their lifestyles are like. Built-in, opt-in, responsible consumer data enables you to make personalized customer predictions that actually resonate with the people you're engaging with by revealing demographics, psychographics, financials, property information, and more.
Seamless integration
There's nothing worse than finding a promising piece of software, only to find that there's no feasible way for you to fit it into your stack. The best churn prediction software sits directly in your stack to enable customer predictions wherever and whenever you need them. Embedding churn predictions directly into your infrastructure and workflows means that you'll always have them on hand.
Stays up-to-date
People change–lifestyles, shopping habits, and so on–and your customers are no exception. With 65% of consumers reporting that they expect brands to adapt with their changing needs, it's critical that your churn prediction software stays up-to-date.
Create personal and frictionless experiences
All it takes is one bad experience to turn a loyal customer into a churn. Ensuring that each experience your customers have with your brand is personal and frictionless goes a long way to keeping your customers on board. Your engagement, regardless of channel, should include content that's relevant to who they are and what kind of shopper they are. This results in experiences that seamlessly deliver the exact information, products, and services that your customers are looking for, so that they never have the excuse they need to find an offer elsewhere.
Best customer churn prediction software for consumer brands
With AI becoming as popular as it is in the martech space, there are plenty of offerings on the market for savvy brands to pick up. Not all of them are created equal, though, and there are a few that stand apart from the crowd in their ability to scale effective customer retention strategies.
1. Faraday
Faraday is a customer prediction platform that uses AI to segment and analyze customer data to find patterns that indicate how likely a customer is to churn.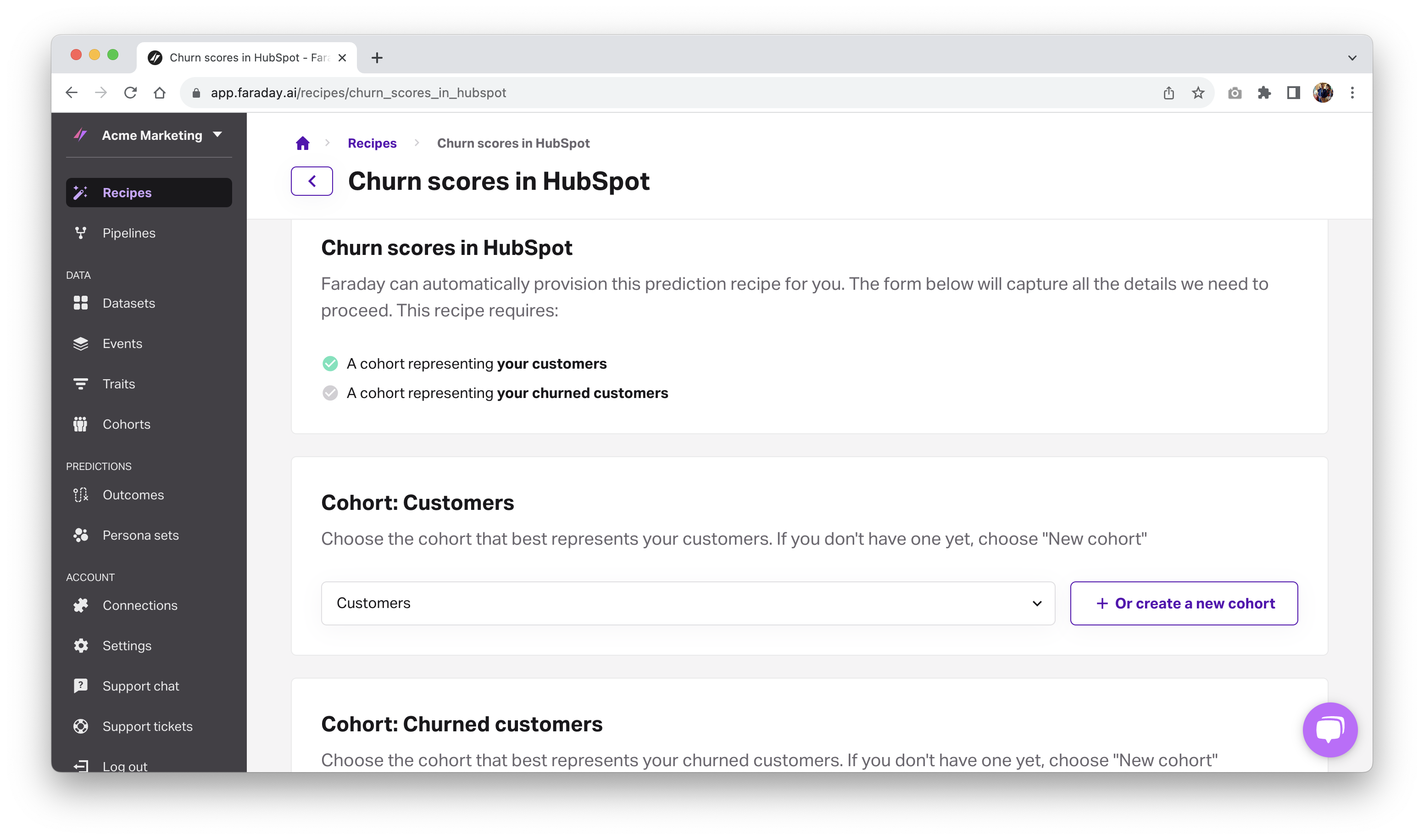 Through an intuitive user interface, Faraday enables you to segment you data into subgroups based on event or trait data, like customers, then use rich, built-in consumer data to find what makes you customers unique through expandable, filterable trait analysis and time-lapse dashboards. From there, in just a few clicks, you'll describe the predictive outcome you need–churn scores in this case, though Faraday offers many others–and a bespoke predictive model is created and scored for what kind of results can be expected from using these churn predictions.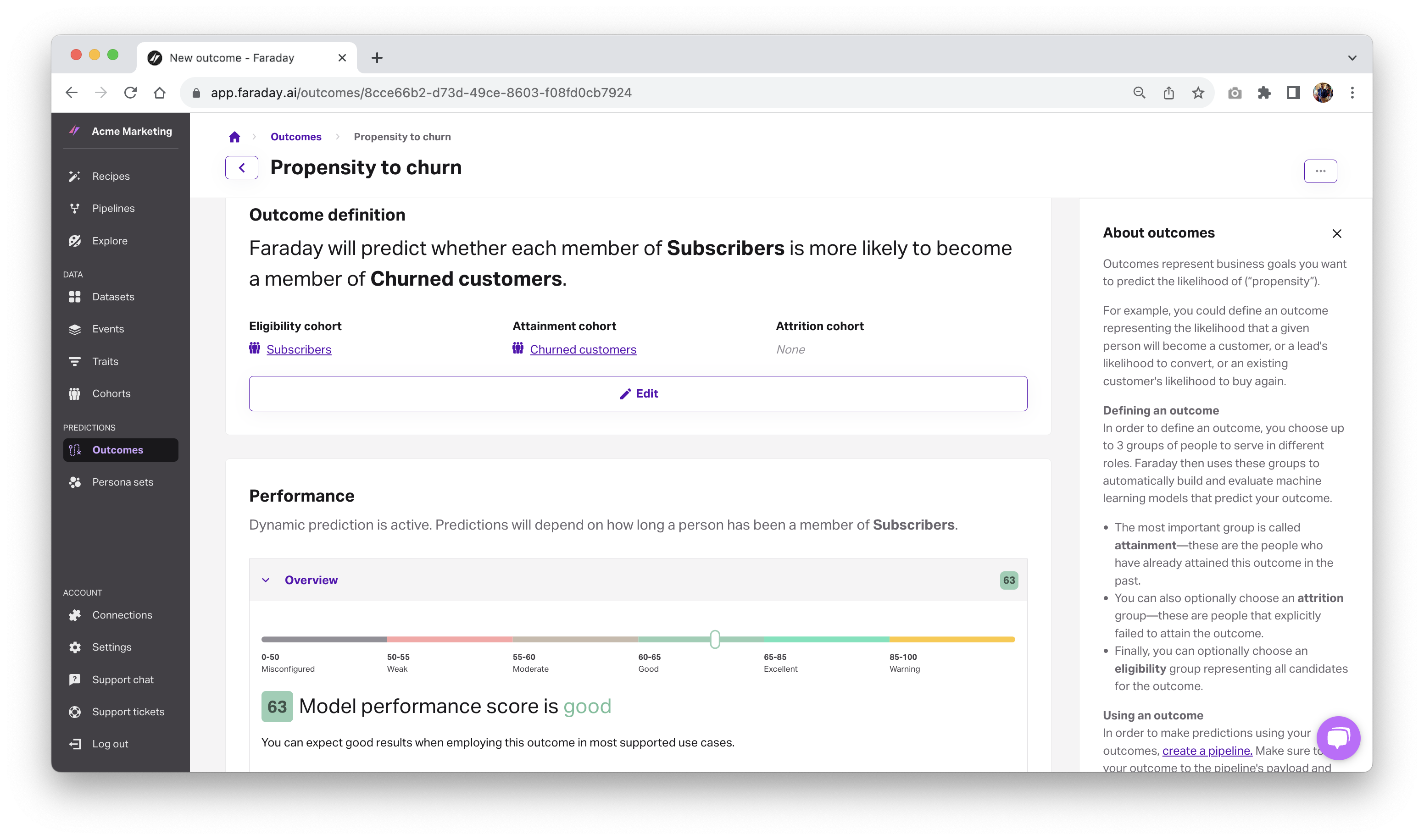 Once churn scores are applied to your customers, Faraday automatically updates and refreshes them based on any new data or changes to data used in the predictions, ensuring that churn scores are never out of date with your customers' wants and needs.
On top of that, Faraday easily integrates with hundreds of popular tools like HubSpot, Iterable, and Salesforce–not to mention your database or data warehouse–so that you can build customer predictions directly into your stack without changing your overall workflows. With predictive churn scores in your stack, you can confidently engage customers that are most likely to churn before they take that critical step.
2. Amplitude
Amplitude is a digital analytics platform that enables you to analyze how users engage with your products or platform. Through detailed analytics, Amplitude helps brands understand their customers and optimize their products to drive growth.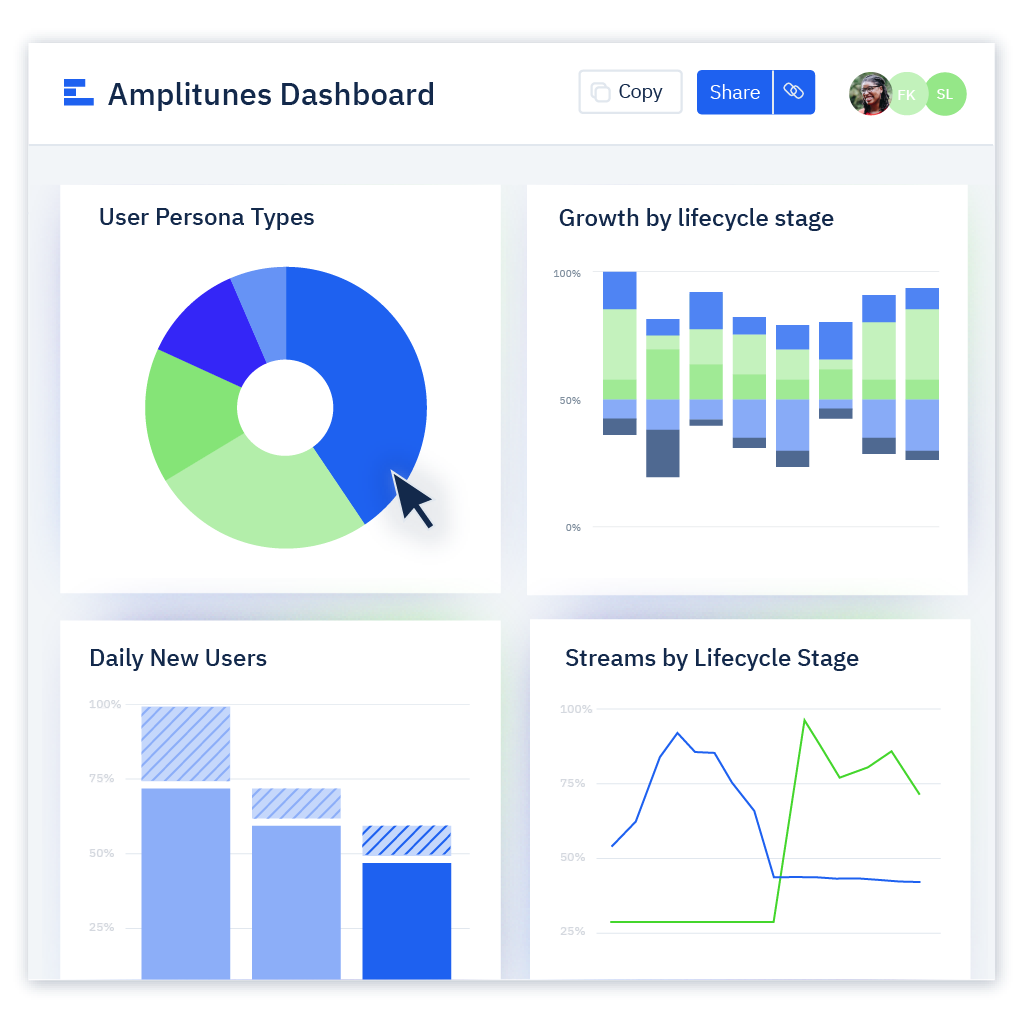 3. Churnkey
Churnkey is a customer success and product experience software that helps users drive retention through features like personalized cancel flows. Though not a full AI platform, Churnkey uses AI to filter through product feedback to help brands better understand their customers.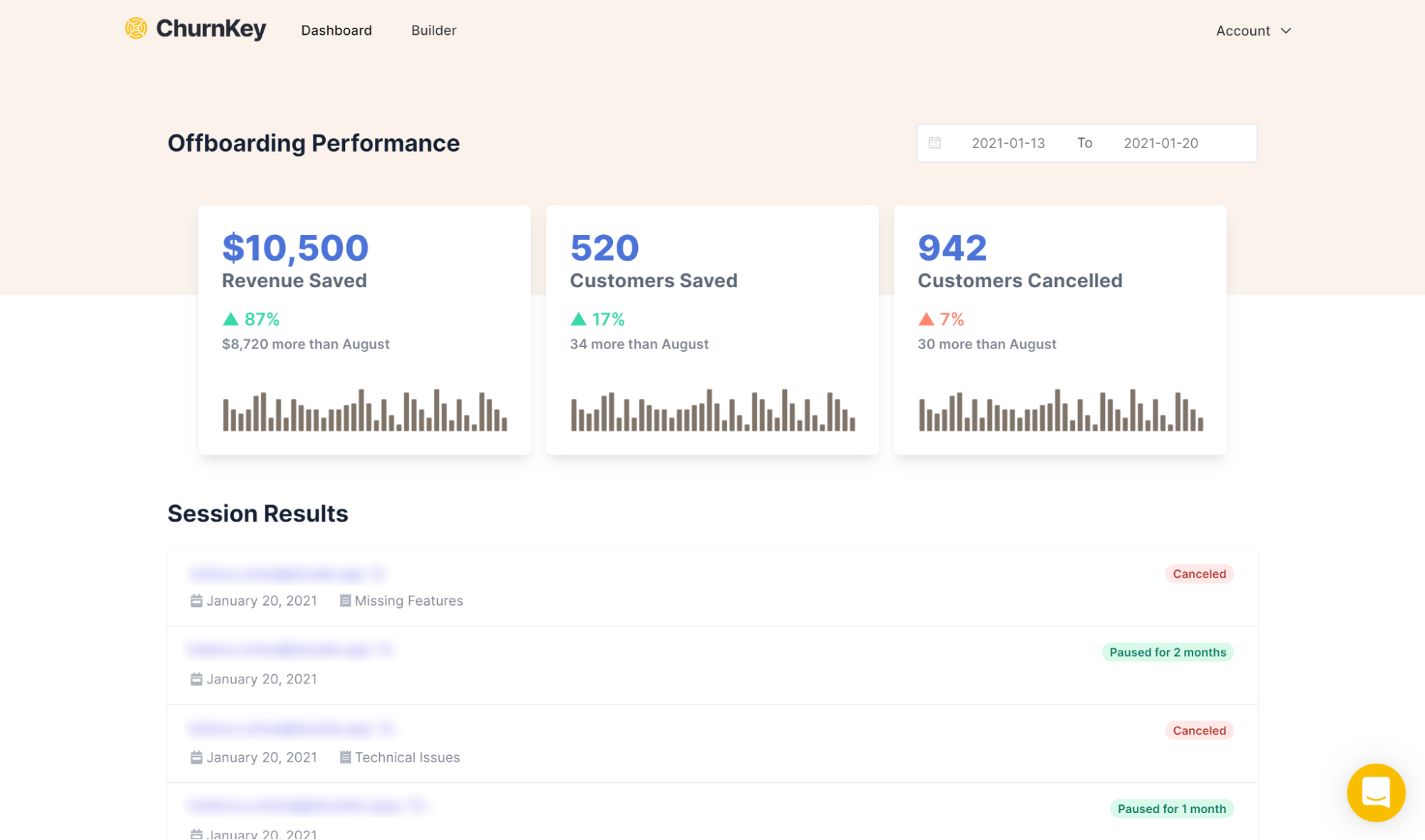 Get customer churn predictions in your stack. Create a free account.
---