Hyper-personalizing customer journeys with AI
Personalization is more important now than ever. The circumstances around COVID demanded that brands ramp up digital strategies in order to stay competitive, creating a considerable amount of noise in inboxes and ad spaces (though direct mail is making a comeback). Consumer inboxes, Instagram feeds, and the like are riddled with emails and ads–some personalized, some not–and each leaves a different impression. The result is that brands need to work harder & smarter to stand out from the competition.
However, achieving true personalization at scale is much easier said than done. Collecting first-party and behavioral event data allows for a comprehensive understanding of how customers engage with your brand. This foundational data must be joined across various data sources and can be further enriched to construct a comprehensive and unified customer profile. Subsequently, artificial intelligence (AI) can be employed to create customer predictions, identifying ideal customers and the best engagement strategies for each. Finally, a Reverse ETL platform activates customer profiles and AI models out of your data infrastructure and into the downstream tools that power your marketing and business operations.
Use cases for AI-powered personalization
Personalization that's driven by AI has applications across the entire customer journey. Let's take a look at a few standouts.
Customer retention through proactive engagement
It's always better to be proactive rather than reactive, and engaging with your customers is no exception to this rule. While traditional engagement can be personalized after an individual has interacted with your brand through ads, purchases, form submissions, and so on, AI-powered personalization allows you to engage with resonant content from the very first interaction, leaving your customers feeling understood, and that you see them as more than just clickstreams. On top of that, adding propensity to churn predictions to the mix gives you an additional layer of proactivity.
Internal talk track alignment
The benefits of AI-powered personalization aren't exclusive to external outreach. Savvy brands are adopting it to create frictionless experiences for their customers by ensuring every sales rep is on the same page when it comes to talking points for each buyer persona. Additionally, it's likely that some reps on your team will be more successful with certain personas than others, which can be used to foster persona-specific coaching among reps.
How Faraday and Hightouch enable hyper-personalization
If you want to build this robust personalization, good news: Faraday and Hightouch have partnered to help brands hyper-personalize every customer journey with ease. Let's dive into the highlights of the partnership that brands hungry for true personalization can reap the benefits of.
Unify customer data in the warehouse
Hightouch enables you to build a Composable Customer Data Platform (CDP) directly on your existing data infrastructure. In practice, this means that you are able to store, unify and activate all of your customer data directly in/from our data warehouse rather than splitting data in different silos.
Traditional CDPs collect clickstream and event data, store it in their own data silo, perform identity resolution to build Customer 360 records, and then sync data to marketing tools. The Composable CDP does all of these functions, but around your data warehouse so that it can unify all customer data, including clickstream events but also offline interactions, third-party enrichment data, data from operational servers, and more. This is an essential structure for personalization because it ensures that AI models and marketers alike have access to the full view of what each customer does while providing brands with the piece of mind that data remains within their own infrastructure.
You can use ETL tools like Fivetran to collect some of this data in the warehouse, and Hightouch Events to collect digital events into it as well. Hightouch's Customer 360 Toolkit then enables you to unify customer records in the warehouse by performing identity resolution.
Use AI for customer predictions & first-party data enrichment
With your first-party customer data consolidated in the warehouse, you can use Faraday to enrich it with built-in, permissioned, and opt-in consumer data, then predict the likelihood that they'll take virtually any action.
Start by using AI for customer segmentation, leaving you with rich insights into who your customers are to guide the personalization of copy & creative. Next, build customer loyalty with a strong churn prevention strategy by predicting churn scores, make your sales reps as time-efficient as possible by implementing predictive lead scoring to find which leads are worth pursuing, expand your brand's reach with confidence using an AI-powered market sizing analysis, and more.
Turn predictions into personalization with Reverse ETL
Now that you've consolidated all of your customer data in the warehouse, enriched it, and used AI for predictions, it's time to put that data to work. Reverse ETL syncs data from your warehouse to your everyday tools. You can do this and build different audiences without writing any code using Hightouch's Customer Studio. It's easy to build a different audience based on their attributes and predictive models and trigger various actions like personalized email campaigns directly from your warehouse source of truth into your everyday marketing tools.
How to embed personalized, predictive high-spender scores in your stack with Faraday and Hightouch
Let's walk through how you can use AI to predict high-spender scores to find your most valuable customers, create bespoke personas to enable hyper-personalization, then embed them in your stack by leveraging Faraday and Hightouch.
Connect your data and define your dataset
First, you need to sync your data warehouse with Faraday by creating a connection, after which you'll define a dataset so Faraday knows who is who in your data. Once your data is defined, you can easily group it into unique segments that we call cohorts–like your customers and high-spending customers.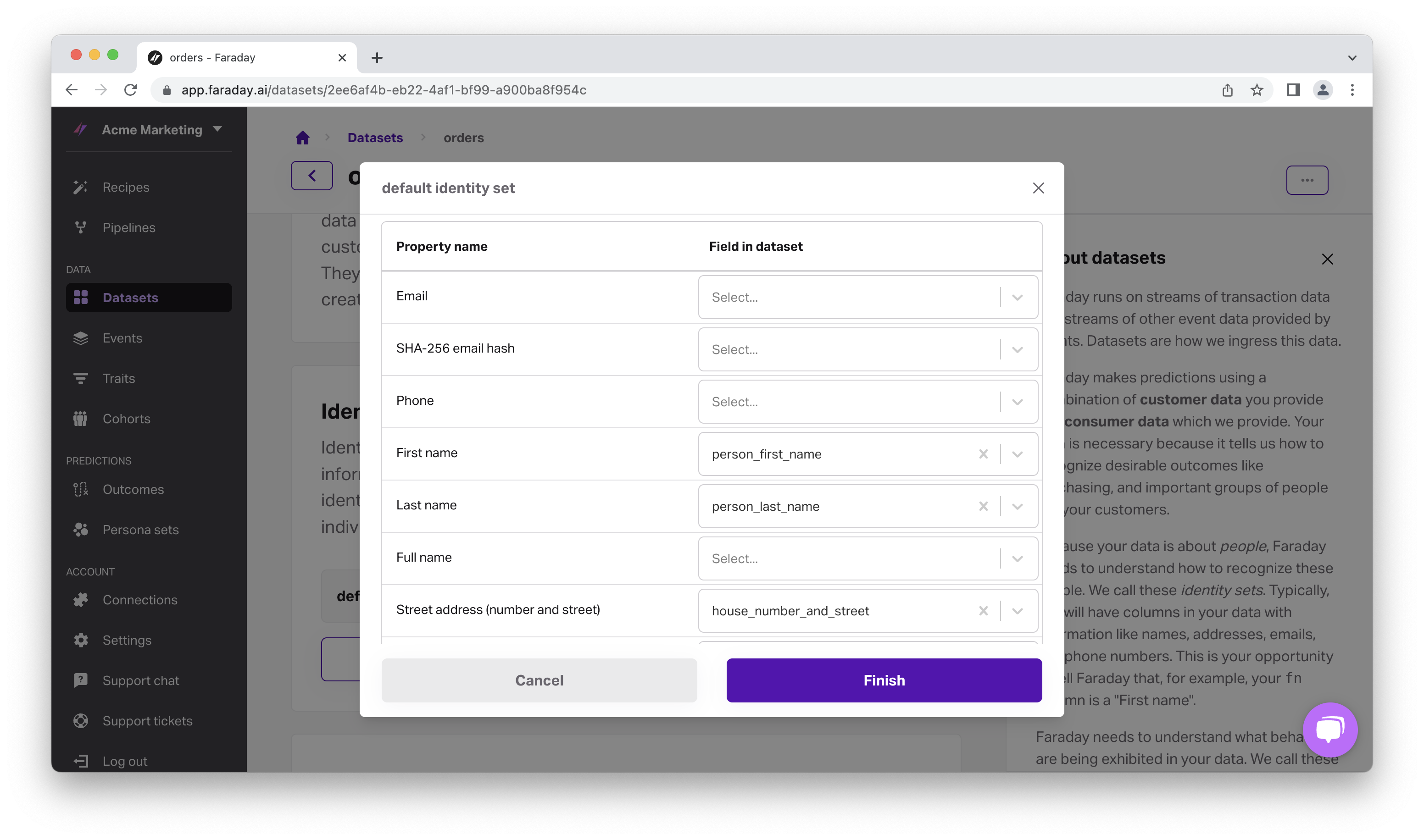 Predict high spend scores to find your most valuable customers
With your data in Faraday, you'll build an outcome to describe the predictions you want to make–high spender scores, in this case. You'll plug in your customers cohort and your high spenders cohort so that Faraday will predict how likely people in the former will enter the latter by spending big.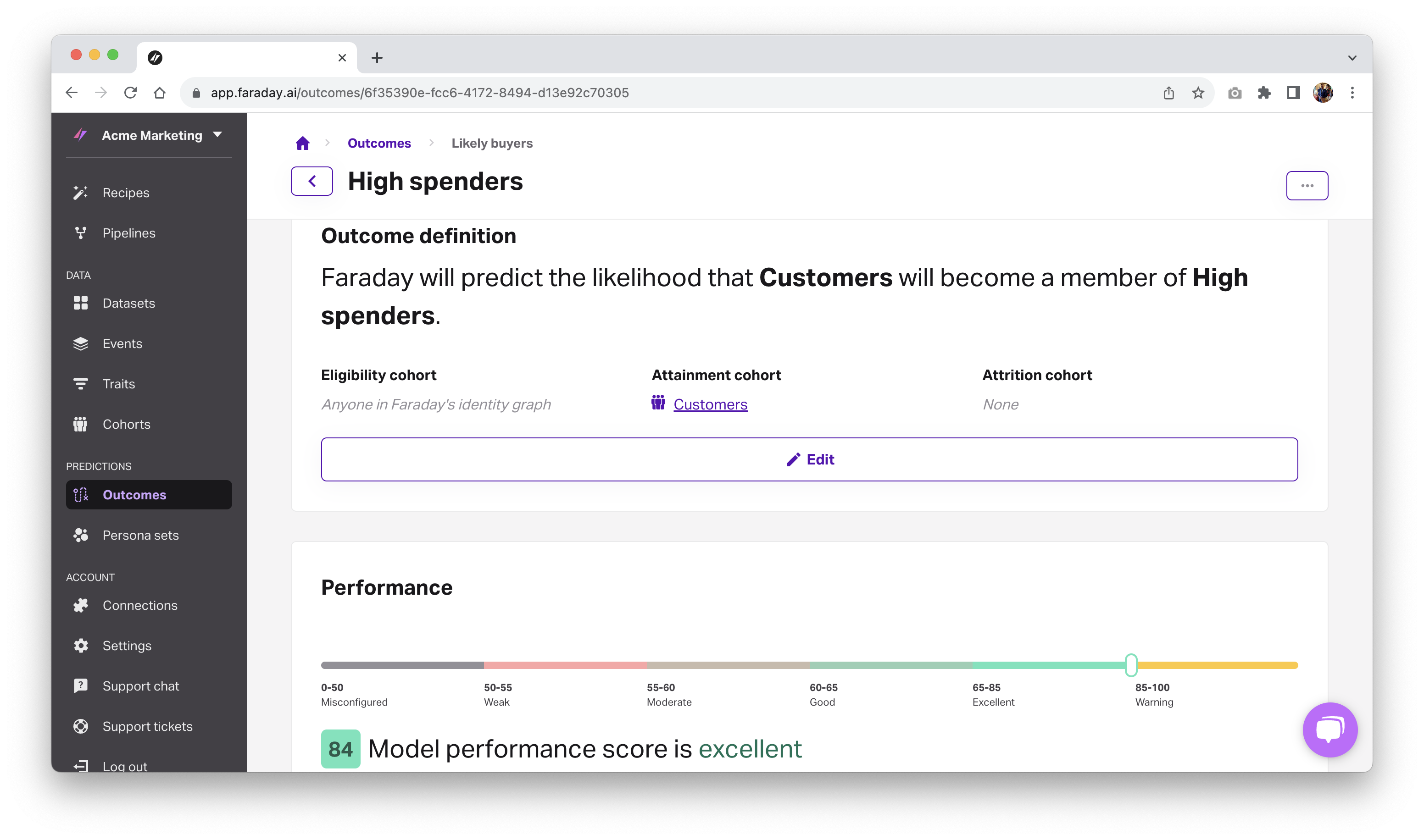 Predict customer personas to guide personalization
In addition to your spend prediction, you can use AI to predict personas within your customer base so that you can engage with incredibly resonant targeting & messaging. Faraday combines your data with rich, built-in data, then uses machine learning algorithms to segment your customers into bespoke personas based on similar trait groupings. These personas provide useful insights into traits like household income, marital status, and shopping style that you can use to guide engagement. You can even take your personalization a step further by adding more traits for analysis, like health & exercise or dog ownership, to see who your customers really are.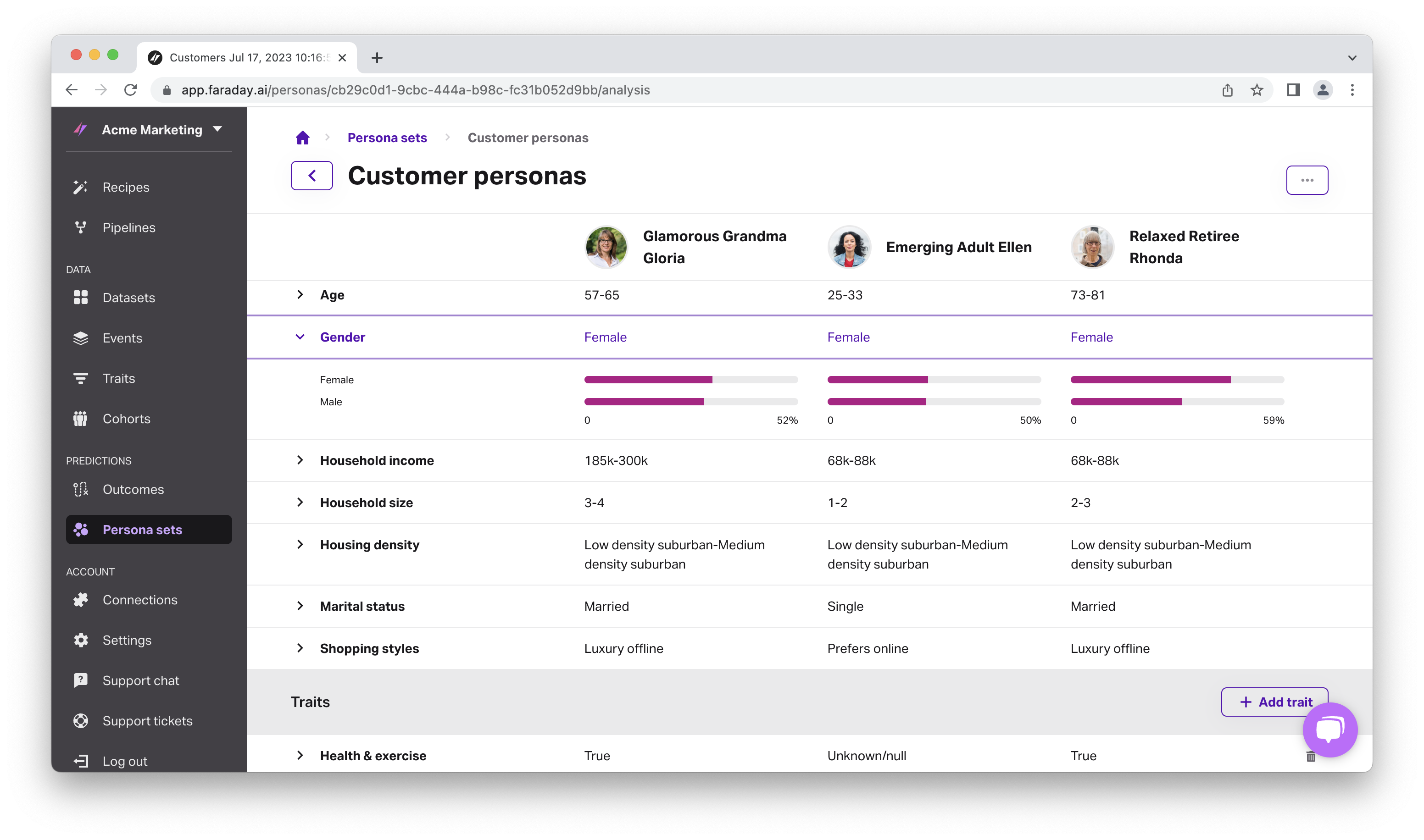 Now that your personas are segmented, use the resulting traits to create resonant copy & creative for your engagement. For example, you could include images of older women exercising in your emails to resonate with customers in the Glamorous Grandma Gloria persona.
Create a pipeline to apply high spender scores & customer personas
With both your customer personas and your high spender outcome created, you're ready to make them actionable by applying both personas and high spender scores to your customers.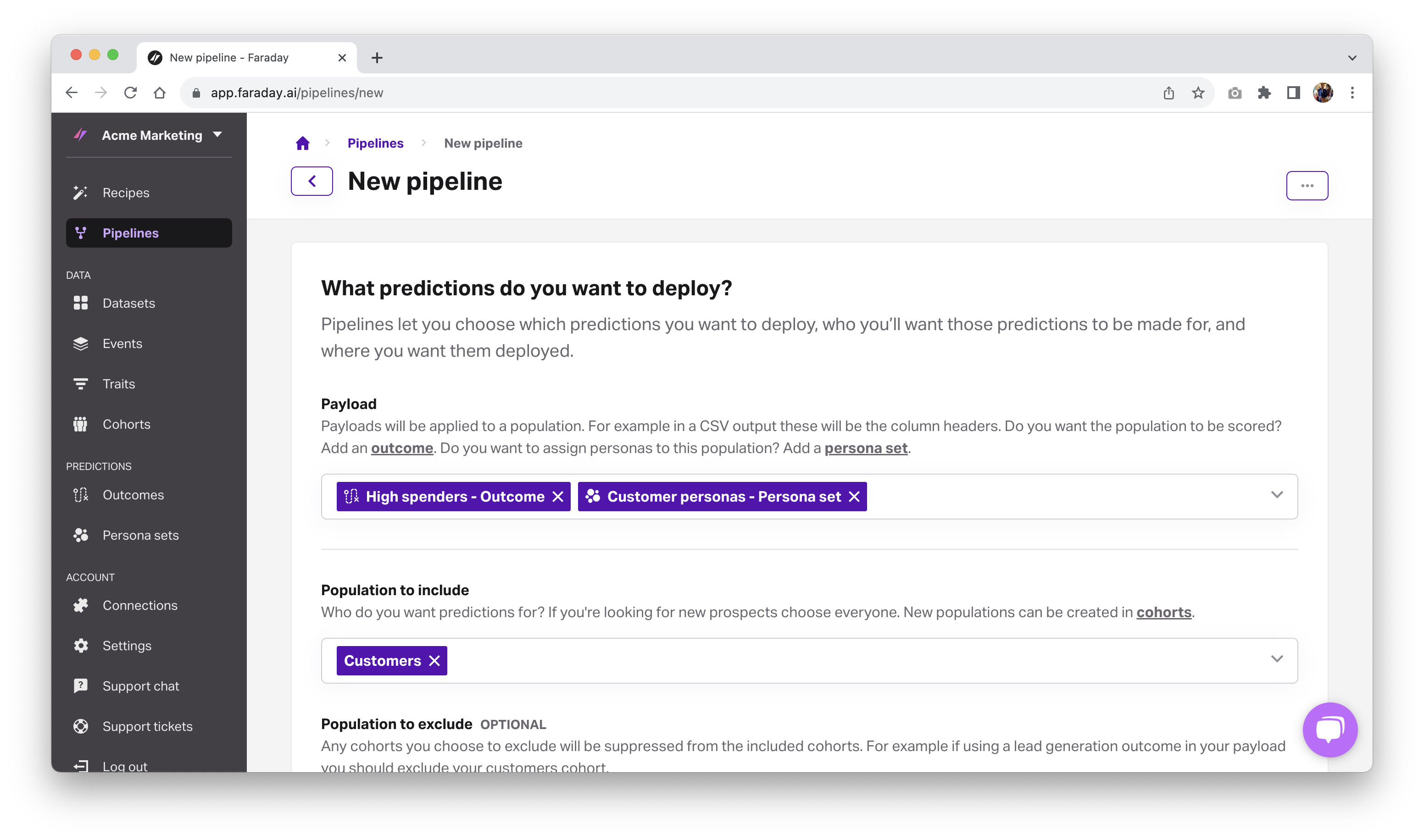 Now that you've applied your high-spender predictions and personas to your customers, create a deployment to sync them to your data warehouse.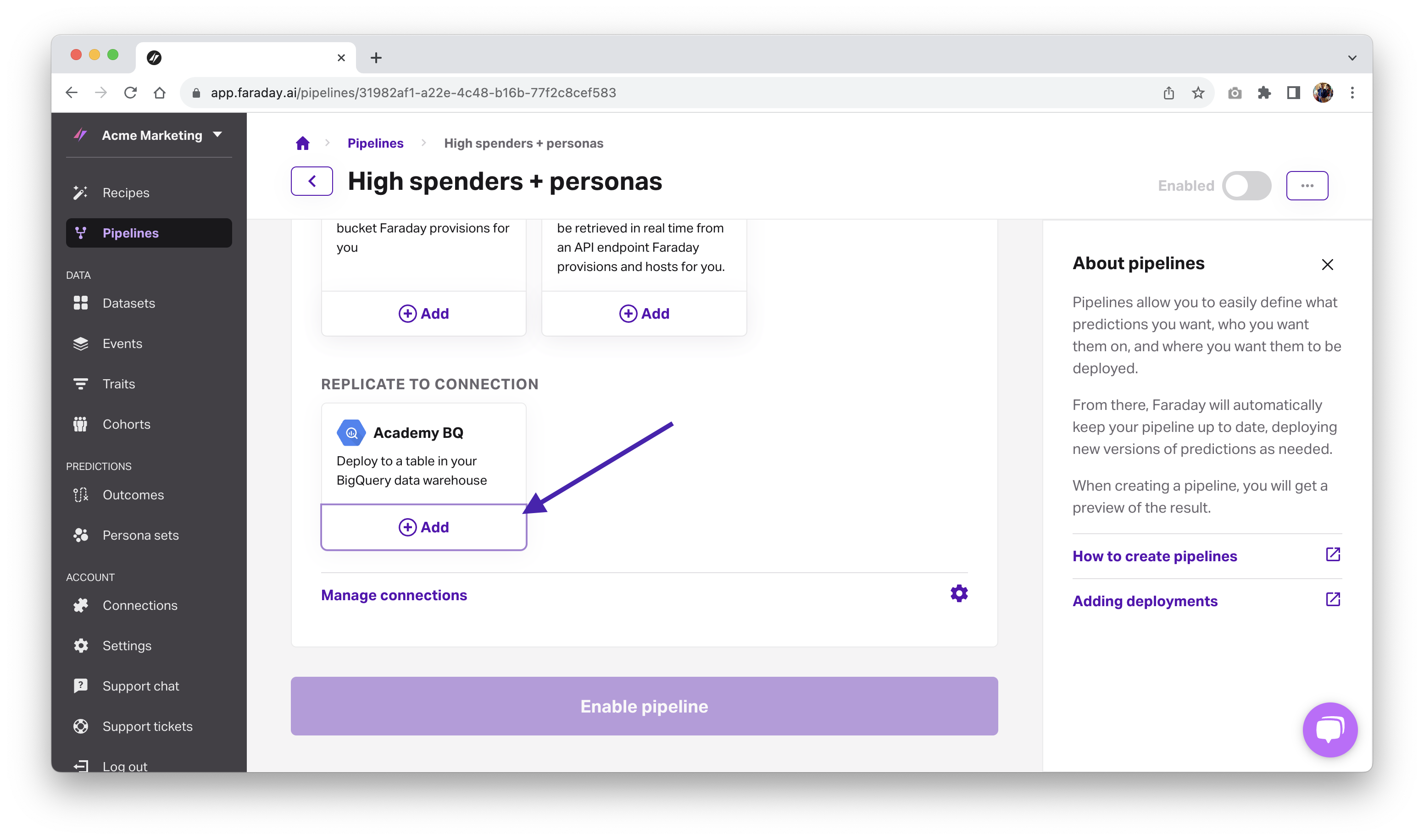 Create custom audiences in Hightouch Customer Studio based on Faraday predictions
Hightouch offers a visual audience builder that makes it easy to define custom segments based on your business criteria. For example, you could build an audience of customers who left an item in their cart but did not complete a purchase. You can similarly build audiences based on your predictive scores from Faraday, to turn those predictive scores ultimately into different user groups that you'll take different action with.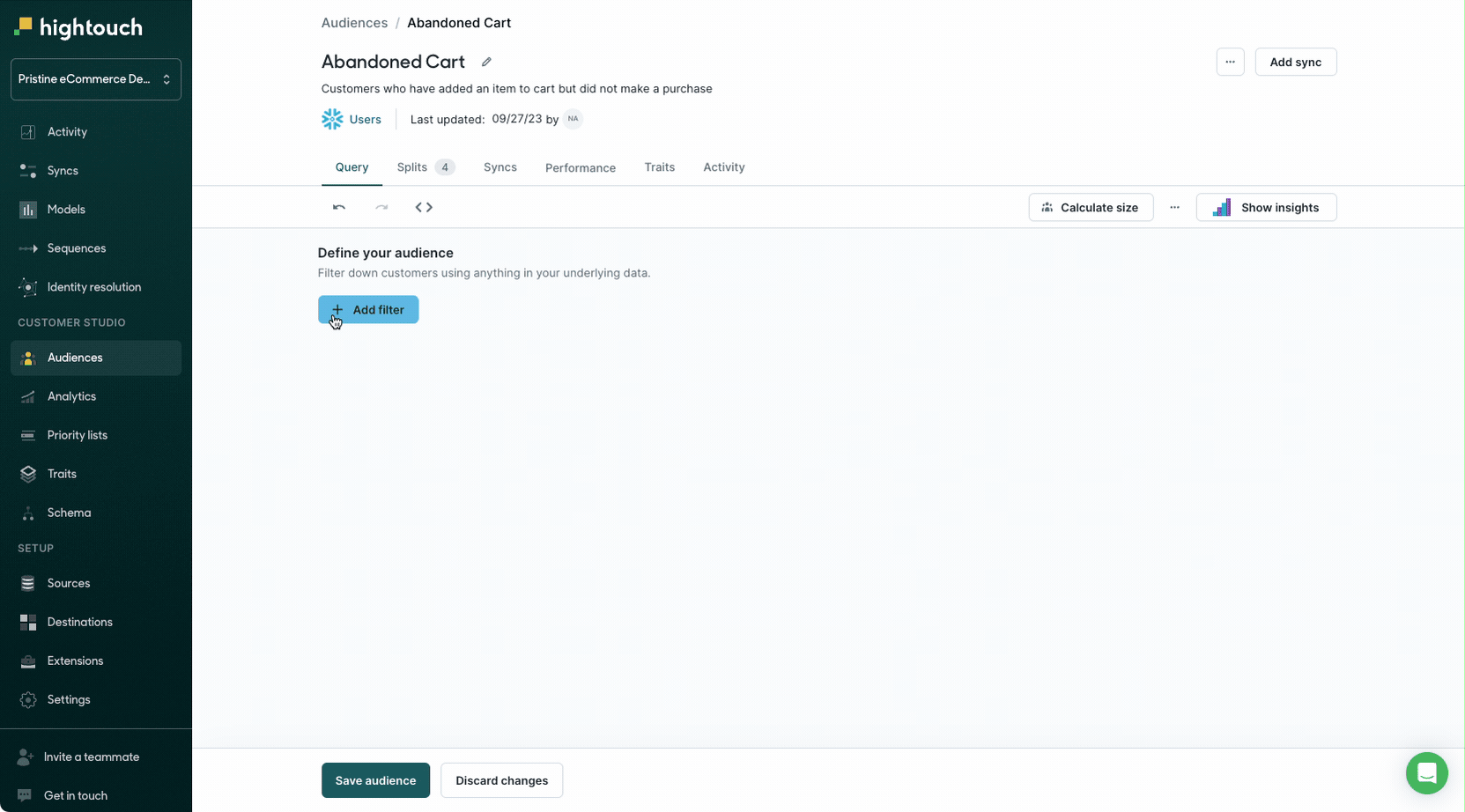 From there, Hightouch uses reverse ETL to sync your customer predictions to your preferred activation platform, like HubSpot, Iterable, or Mailchimp, where you can create a personalized campaign to target your high-value customers. You can sync additional fields from your warehouse to these platforms, to fully utilize the personalization strategies that you've devised for these customers with Faraday. You can set up these syncs on a recurring schedule as needed, so your personalization campaigns can refresh as you run new predictions through Faraday.
Ready to achieve true personalization at scale? Create a free Faraday account, and book a demo with Hightouch.
---