Introduction
Faraday easily integrates with Snowflake, enabling you to embed AI-powered predictive analytics anywhere else in your stack. Discover your brand's bespoke personas, score your customers for churn risk, find repeat purchasers, and more, enabling you to confidently engage the right customers, at the right time, with personalized, relevant content. The best part? No code—and no PhD—required.
Getting started
Make sure you have a Faraday account (signup is free!) and that it's not in test mode.
Prerequisites
You'll need the following details to create your connection to Snowflake:
Connection
Setting up your connection
First, you'll need to grant Faraday access to Snowflake.
Snowflake connections require determining the "organization name" and "account name" in addition to a user and password. We suggest that you create a Faraday-only schema to both send and receive data. Within this schema, Faraday would have full read and write access. Alternatively, you can give Faraday access to certain tables in a shared schema.
Example commands:
ALTER USER FARADAY_USER SET
RSA_PUBLIC_KEY='MIICIjANBgkqhkiG9w0BAQEFAAOCAg8AMIICCgKCAgEAveZjTXJEJzFSUqrw/U1u
OBEzdNXWf19AzcTl5r1UOyTOjC5iHhi3BFPE0oYwCdpo1aYmkJqunzzaMCHexS4T
TxStCfxpFwV2gjB2SvT+eIE6e3HM8uizuWv9ENYW8r5pGUkwsOcg9jQKm017IfUG
iSQeZkllX1ZZRxPb/pjim4uyWU49WNeF/hr0kIpd6I/r2Pph7UmOxbuTGpb9wkko
bsoevjGVjzlhQOFZc6roYMBVLXkGiJTVMHX9eKa/QRf1KQMmM5VwWaRGO7VUx6+r
pZHQvNXDfMaY3gErx5UsCq3xxhqTV07T4IuCP1C7vPIhn5/xJBxR/yv6x9hS/Czn
07IPhCL3WRFa2OMCeHwnw90J10aNqAJmWrMccbC6VIInK6Vv/rbpOYfhsI4Wu9PJ
Ia6cm4g1kv2Mz7m7VhHpZAVIPKLxg0E7bsNQjx+XxfSV3dyq2kblKs+Ki5J2JUFw
hhMKTGiEDO2rxbnqKAiOEUlFpi9RbS+lWep+rREvj0XTE3f4rV+i3JdgeyACJ+Ua
uqCaVbmFPWtKca7D1bSwBnvf6TURSK2FLhHFC80NRMNXi3fkakL8y7XrmVBttzg3
wdVq+g/+DtYsmtb/Z+pcm1joGsLt3lyKUc6/w/1fbZi+svDhW2E7JvijuBmNgSSO
Q3Zs5aVfZyX2Hn/b35UmZtUCAwEAAQ=='

CREATE ROLE FARADAY_ROLE
GRANT ROLE FARADAY_ROLE TO USER FARADAY_USER
GRANT USAGE ON WAREHOUSE COMPUTE_WH TO FARADAY_ROLE
GRANT USAGE ON DATABASE DATA1 TO ROLE FARADAY_ROLE
GRANT USAGE ON SCHEMA DATA1.FARADAY_SCHEMA TO ROLE FARADAY_ROLE
GRANT ALL PRIVILEGES ON SCHEMA DATA1.FARADAY_SCHEMA TO ROLE FARADAY_ROLE
GRANT ALL PRIVILEGES ON ALL TABLES IN SCHEMA DATA1.FARADAY_SCHEMA TO ROLE FARADAY_ROLE
GRANT ALL PRIVILEGES ON FUTURE TABLES IN SCHEMA DATA1.FARADAY_SCHEMA TO ROLE FARADAY_ROLE
Faraday suggests that you use an unguessable string somewhere in the path to your data. This avoids what is called the Confused deputy problem
For example, instead of naming an S3 bucket s3://faraday-acme/, name it s3://faraday-acme-pwiiprz162ez. This guarantees that malicious actors cannot guess the name and request that Faraday import data from it into their account. The same logic applies to any path that is used to locate data.
Creating your connection
Now you can connect Faraday to Snowflake.
In the navigation sidebar, choose Connections.
Click the New Connection button.
Fill out the form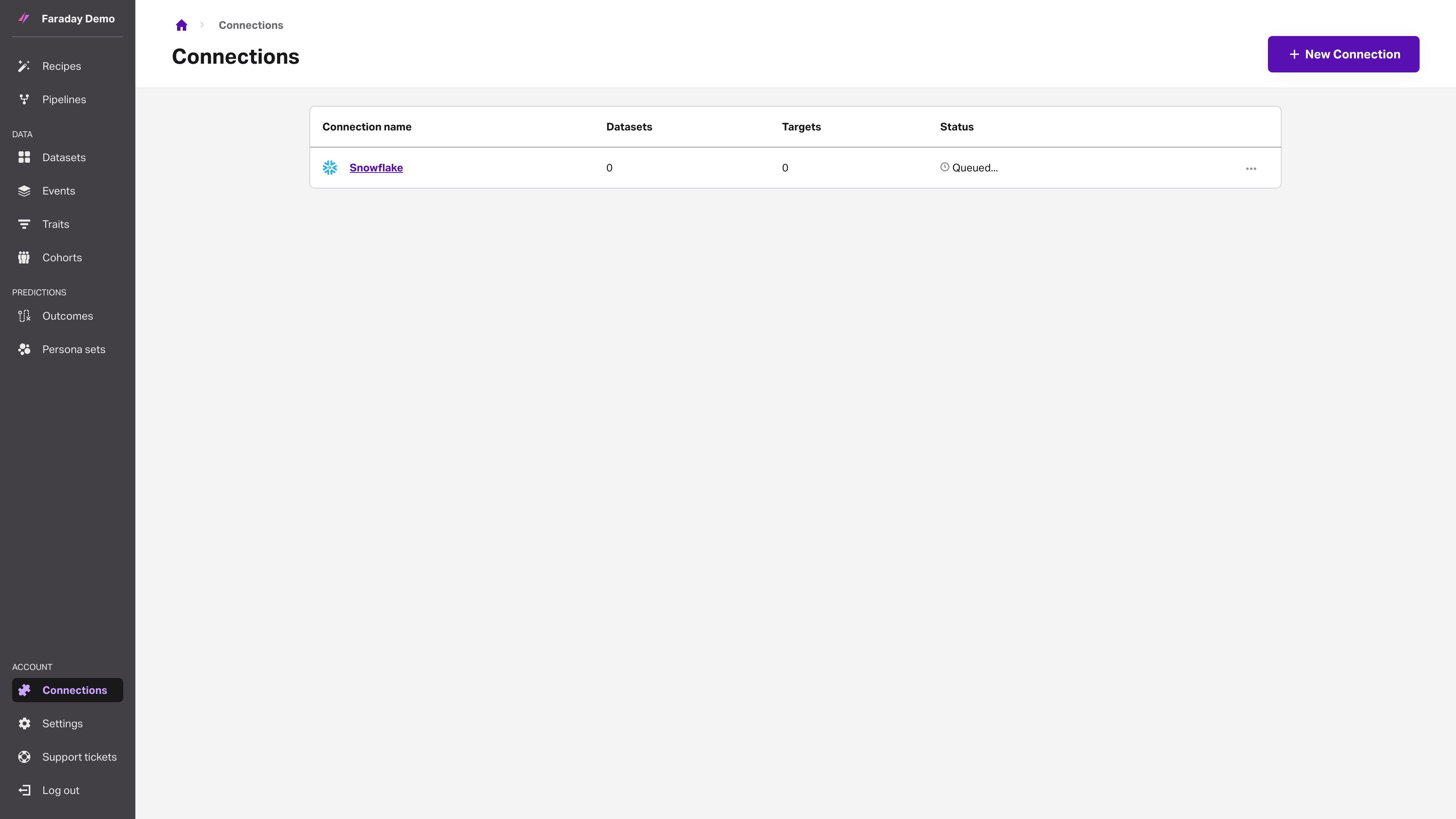 Wait briefly while Faraday establishes your connection. It shouldn't take long.
Your new connection is now ready to use!